COMPETING in her first event in 2002 it wasn't until 2013 that Katerina Tanti took triathlon back up. She has since made lots of progress and seen much of her life begin to revolve around the sport. She has competed in a half Ironman and has also represented Greece in AG level for the ITU world triathlon finals in London in 2013 and the ETU middle distance champs in Paguera-Mallorca in 2014. She is a co-founder of www.racecheck.com, a website where athletes can browse and rate races around the world.
Read on to find out where Katerina's passion comes from, her message to those interested in taking up triathlon and her ambitions in the sport for the years ahead.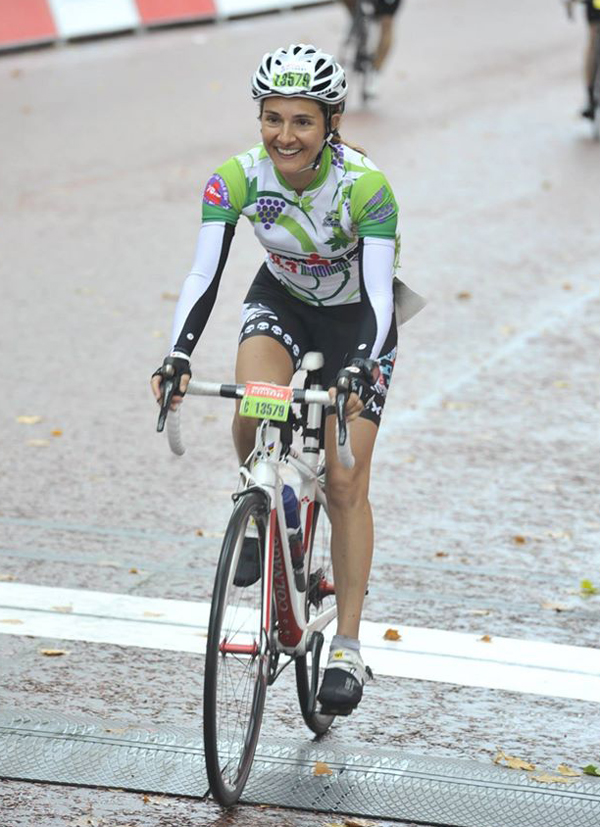 When did you first get into triathlon and have you always been a sporty person?
I first got into triathlon in 2002 when living in Greece. A friend had done an Ironman race which was something I had never heard of before! Actually I hadn't even heard of triathlon then but as I have always been easy to convince into a challenge I decided to take it up. 
I have always been sporty and competitive. My dad owned the ASICS franchise in Greece so I have always been immersed in the magic world of sports. As a child I played a lot of basketball and ran track.
What areas of triathlon do you excel at and where do you have to work the hardest?
I would say my best discipline is the run. It is the one sport that feels effortless to me, especially if I have to run after the swim and bike.
I find transitions the hardest as I very frequently feel dizzy when coming out of the swim. The other area that needs more work is my bike as it is the one I enjoy the least… but I have already increased the intensity and frequency of my bike sessions so hopefully that will do the trick.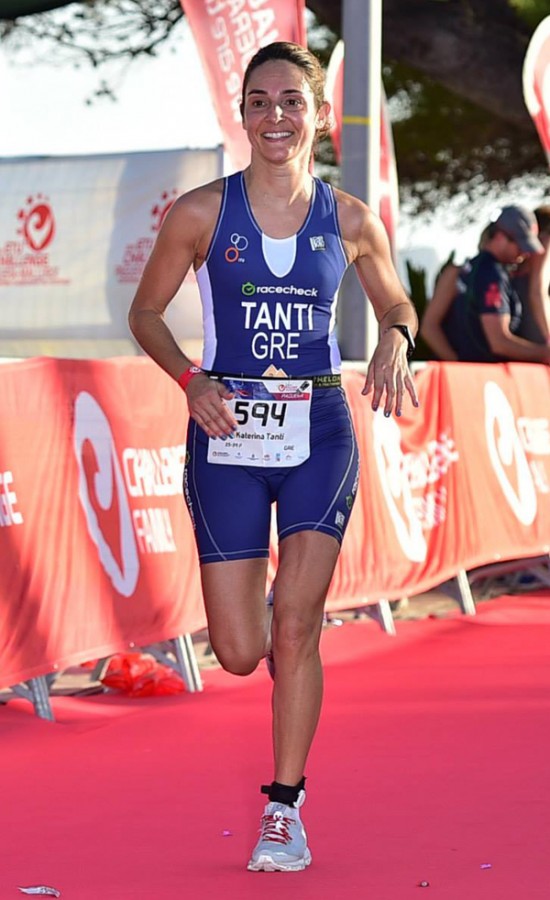 Have you competed in an Ironman and do you have any plans to do so?
I haven't competed in a full distance triathlon yet. Being a parent and a business owner doesn't leave me enough hours to train as I would like for such a challenge. However, I am definitely planning to do one in the next two to three years. The problem is choosing which one as there are so many amazing races around the world.
What have been some of your biggest successes in triathlon and what are some of your ambitions for the future?
My finest moment was. competing and finishing my first half Ironman (Vineman 70.3) in Sonoma County, California. I raced for my friend who had died of a brain tumour at the age of 42 leaving behind three lovely children. Crossing the finish line was a very emotional moment for me. 
Other proud moments have been representing Greece in AG level for the ITU world triathlon finals in London in 2013 and the ETU middle distance champs in Paguera-Mallorca in 2014. My aim for this year is to qualify for the Ironman 70.3 World Championships 2016 in Australia. 
As for the future I have a number of bucket list races I would like to compete in like the Norseman, Challenge Roth and, the 'holy grail' for any long distance triathlete, Ironman World Championships in Kona… but that seems a long way away.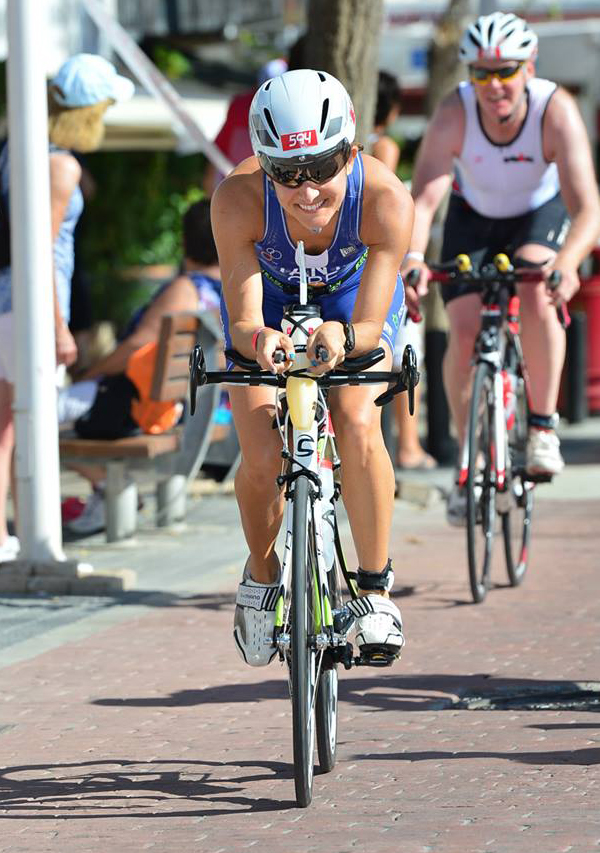 You are a co-founder of racecheck.com. Could you tell us more about what the website is about and how people can benefit from it?
We set up Racecheck after traveling and competing in races that were not what had promised to be. We really wished there was a website where you could read race reviews before spending time and money going to a race that you would end up not enjoying.
On Racecheck athletes can browse for triathlon, duathlon, aquathlon, running, swimming and junior races around the world. They can read and post reviews, save their searches and their favourite races etc. Organisers can register and upload their events for free, offering them a great way to showcase their races to a global audience, get feedback, reply to reviews etc. 
We are continuously building new functionality and aim to provide athletes and organisers with a unique global race resource. This is just the beginning…
How has triathlon changed your life and have you met lots of new people who share your passion for the sport?
Triathlon is an amazing sport. Having three disciplines gives you enough variety to keep training interesting and your motivation high. I love the challenge it provides, both mental and physical, and the excuse to visit new race locations. 
The sense of community in the sport is phenomenal. I have gained many new friends who share the same interests and passion as me. Healthy competition and camaraderie is a common feature between triathletes which makes for a very special bond between the group.
Has triathlon taken its toll on your body or have there only been benefits on your fitness and well-being?
Unfortunately I am one of those people who gets injured easily (or is that because I'm getting old?). However compared to other sports I was doing before, like tennis, the variety of training that triathlon provides is much lighter on the body. I recently did need shoulder surgery but that was not because of triathlon training but a bike/car accident.
The benefits surely outweigh the costs, but a sensible build up of training and good listening to your body can avoid unnecessary injuries.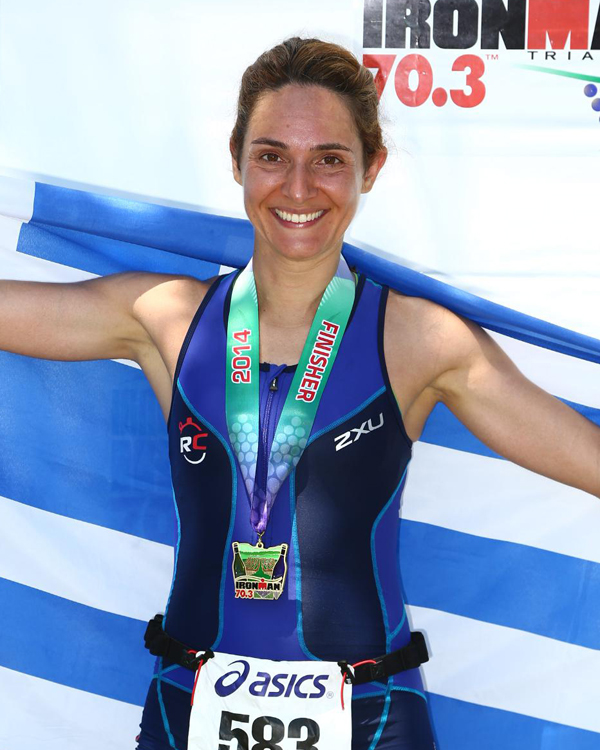 When you're not competing in or training for triathlon how do you mostly spend your time?
I always say I wished there were more hours in the day! Apart from training and racing I run my business, I manage a triathlon Twitter community (@uktrichat) and raise my two young children. Time management is a big challenge for me and I have to admit I am still trying to find ways to get better at it. 
What would be your message to those inspired by the people like you who are pushing themselves to excel in triathlon, but lacking the motivation to indulge in the sport themselves?
Triathlon has a reputation of being an expensive sport or a sport for really fit people. It can be expensive if you want to have the latest gear but someone can easily borrow most of the gear and give triathlon a try. As for being fit, you don't have to be fit to start doing triathlon but most certainly you will become fit if you stick with it. There are entry level races for novices that are friendly, not very crowded or competitive and offer short distances. 
If you need some motivation then join a local triathlon club and start training with them. The triathlon community is very welcoming and you will soon feel part of a team or even a family. Otherwise following communities like @uktrichat is also a great way to ask all those questions that you were always shy of asking and again feel part of a triathlon family.
This sport requires patience. If you put in the training you will see improvements but you need to build slowly to avoid injuries. Have a long term plan in your mind and work towards shorter term annual goals. That will keep your enthusiasm and love for the sport alive as well as give you a great sense of achievement and self-confidence. 
The biggest piece of advice would be don't be too hard on yourself and enjoy training and racing. There is no point in spending hours doing something that makes you unhappy. Enjoy the journey and don't forget to smile at races!!