EMMA CLAYTON is a full-time primary school PE teacher but out of working hours her time is dedicated to intense training for the World Mountain Running Championships that take place in Great Britain this year.
Having been encouraged by her father to enter her first fell race aged ten, going on to compete in the British and English fell racing championships, she has now cemented her place in the GB mountain running team.
In this interview Emma talks about how her life as a runner began and her dedication and desire to encourage youngsters to become involved in the sport. 
Where did you grow up and when did you start running?
I grew up in Scunthorpe, North Lincolnshire. I enjoyed running in primary school however it became serious when I moved up to secondary school. When I was around 12 my Dad saw a fell race advertised and thought I'd find it fun, I didn't. It was cold, wet, windy and I was running through knee high bogs but somehow I wanted more. I was hooked after that.
What were some of your early successes?
After years of competing on the fells I was a three times British and England U23 fell running champion. I also represented England as a junior once at the World Mountain Running Trophy, where I came tenth.
How does it feel when you represent Great Britain?
There's no greater feeling and it's a special moment each and every time I have the opportunity to put on a GB vest. Once I became a senior it took quite a few years to make it into the GB team but I've been fortunate enough to be ever present since my debut four years ago.
Could you give us some information on the mountain races of Europe and your involvement in them?
I stopped competing on the fells and started running on the WMRA mountain running circuit in 2011. There's a series of around five or six races across Europe that make up the World Cup standings. Along with these, there are literally hundreds of independent races available to compete in. I felt that to be the best I needed to compete against the best and so I try to get out to the European races as much as possible.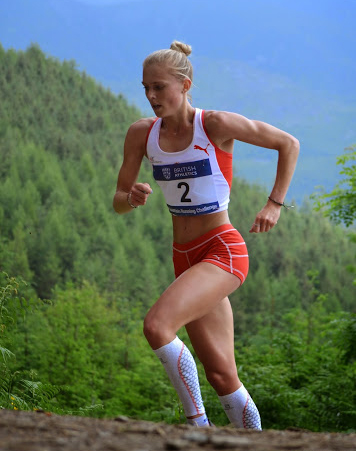 What have been your experiences of the European and World Championships and what successes have you had at these competitions?
In my first year running for Great Britain I finished tenth at the European uphill champs and tenth at the world up and down champs. I was obviously delighted with this as I didn't really know what to expect as I hadn't competed on such a stage before.
Each European championships (two up and down and one uphill only) since I've finished in sixth position. The 2012 race resulted in a gold medal for the senior ladies team in Turkey, which was absolutely amazing.
The highlight came in 2013, when I came second at the up and down world championships in Poland. I was leading for most of the race but was overtaken on the final 1k of the last climb. There was a part of me that didn't even care, all I'd ever wanted was a medal at the world championships. It was a few weeks later when it dawned on me how close I'd been to being world champion.
After the year I've had in 2014, which started with missing the first four months with a broken foot. This year's Worlds at one point was just a distant dream, I couldn't have asked for anything more than a ninth place finish. My best result at an uphill world championships.
What do you do as a full-time job?
I teach PE in a three-form entry primary school in Bradford. I teach from reception through to year 6. It's demanding combining such a role with trying to be an elite athlete but that's all I've known so to me it's normal.
What does a typical week's training consist of?
A typical week is usually around 70 miles split between track, road, hills and then grass or mountains depending on what time of year it is.
How important to you is being a role model for young people?
I've never really seen myself as a role model as I'd often think that not many people have heard of me. Since the silver medal at the Worlds, I've started receiving messages from young athletes telling me how I inspire them to do well.
For the past year I've been a mentor to Georgia Malir as part of the Salomon Avenir project. It provides a small group of young talented athletes the opportunity to be mentored by a senior athlete on the Salomon UK team. I'm lucky enough to not only mentor Georgia but also train with her week in week out and consider her a close friend. I've been through everything that Georgia is going through and will go through in her career and so hopefully I'll be able to pass on my experience to help guide her through it.
What exciting plans do you have for the future?
At the moment I don't have any plans beyond September 2015, which is when Great Britain will be hosting the World Mountain Running Championships. After that, there are so many things I'd like to achieve across all disciplines. I'd love to step up to sky running and try a few marathons before stepping up to ultra-marathons. It would also be great to see how quickly I could run on the track, which is a bit different to the mountains. There are so many possible routes I could take but right now everything is focused on staying fit, healthy and putting in the hard work for next summer.