ELENA KOENZ started snowboarding when she was 12 years old and after she completed her studies made it into the Swiss snowboard team.
Her accomplishments to date have included making it to the Olympic Games in Sochi in 2014 and taking a world champion title in Big Air.
To find out more about Elena and to watch her videos and see her gallery of photos visit elenakoenz.wordpress.com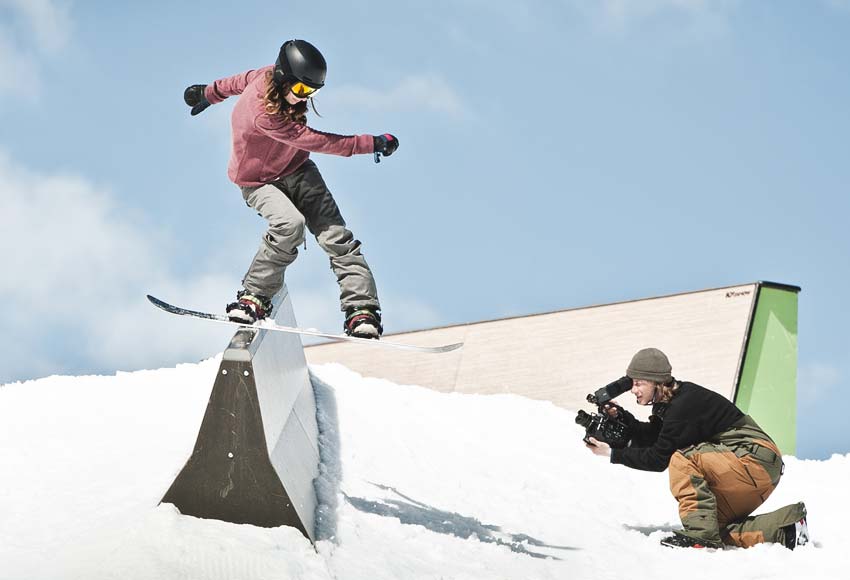 When did you start snowboarding and how did where you grew up help you to pursue your passion?
I started snowboarding when I was 12 years old. We lived in the Swiss mountains and there was always a lot of snow in winter. We could build jumps in our backyard and sometimes in the morning we had to snowboard down to the next village to catch the bus witch would take us to the ski resort.
When did you join the Swiss snowboard team and where in the world has it taken you? What have been some of the highlights?
I joined the Swiss snowboard team after I was done with my art studies in 2012. I've had the chance to travel to many places and one of the highlights was the trip to the north of Finland for the Cat Fight event.
What was your experience of the Olympic Games in Sochi 2014?
To ride at the Olympic Games was totally different from anything else I knew before. It was a good experience and I would love to be part at the next Olympic Games again.
How hard are you currently training and what are the next challenges on the horizon?
I bruised my heel at the Dew Tour in Breckenridge, so right now I'll need some time to recover but I was training a lot this summer and fall. 
My next challenge is the Laax Open and the US Open where I missed finals last year because of one spot. It would be awesome to make it to finals this year.
What are you most proud of in your career to date?
I'm proud of my world champion title in Big Air and that I won the sportswoman of the year award in my region this year. 
I'm pretty happy how I can step up every year and snowboard a lot  – that was always my dream.
What can visitors expect from your website and videos and how important is it to you to connect with like-minded people and fans across the internet?
I like to watch videos from other athletes and see what they are doing. My goal is to share videos and pictures that are nice to watch and to show where I am and what I'm doing. The internet is a good opportunity to get in touch with like-minded people. Also it's a big motivation to see that people like and respect what I am doing.
If you hadn't had started snowboarding what would you be doing in your life right now?
I was at art school before I started snowboarding career so that's another big passion of mine.
Which other female snowboarders do you look up to and which of their qualities do you admire the most?
Of course I look up to Sina Candrian and Isabel Derungs, my Swiss teammates I'm looking up to. They have been my inspiration. I wanted to be as good as them so that I could join the Swiss team. 
Another female rider I admire is Jamie Anderson. I really like how she rides and that everything she does looks smooth. 
Also Klaudia Medlova is a cool rider – she always haves a smile on her face.