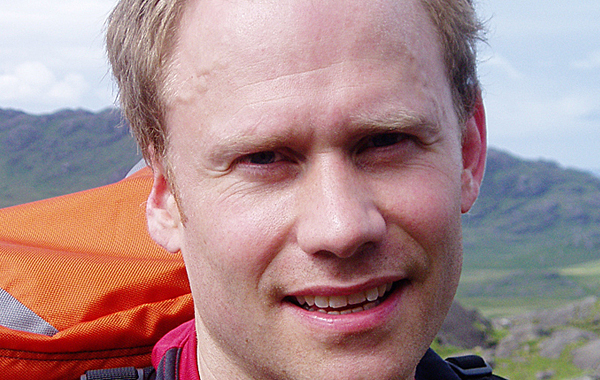 WHEN MOUNTAINEER Jamie Andrew woke up to find he had not only lost his climbing partner and friend Jamie Fisher but also his hands and feet, he soon realised there were two ways his life could go. In his own words he could "give up and fade away" or throw himself into the "challenge of life".
Jamie chose the second option and the incredible Scotsman, a quadruple amputee, has since achieved many remarkable feats, raised thousands of pounds for charity and settled down with a wife and kids.
In this moving and truly inspirational interview he talks about those devastating days on the French Alps and how he has since got on with his life and gone on to inspire thousands.
Between 1986 and 1999 you were an active mountaineer and rock climber taking part in a number of expeditions. Could you give us some of the details on the climbs you made during those years and the places they took you to?
I started in 1986 at 16 or 17 years old doing short climbs in the Lake District, the Alps and Yosemite Valley. I was never interested in high altitude mountaineering and planned lots of hard rock climbs in the Alps.
Tragedy struck in 1999 when, in the French Alps, you were caught in a terrible storm. Could you tell us a bit about what happened on this life-changing day? 
We were not prepared for how long the storm would last and there was no chance of descent or rescue for five days.
It was a far longer ordeal than one day. Jamie fisher and I were climbing Les Droites and on the second day we were caught in a storm that had not been forecast. We were approaching the summit when the weather changed, which meant we had no chance of descending and had to instead see out the storm on a 1m wide by 1.5m long ledge in our sleeping bags. We were not prepared for how long the storm would last and there was no chance of descent or rescue for five days.
On the fourth day there was a brief break in the weather and we saw a helicopter but the winds were too strong for them to rescue us, which was very hard to take.
We survived five days but on the fifth night suffering from hypothermia, Jamie became unconscious and died. I was frost bitten and suffered hypothermia with frozen feet. I made it to the next morning and as it was a clear day the helicopter came again. A guy dropped onto a ridge and made a 90m line from the helicopter to clip to my harness.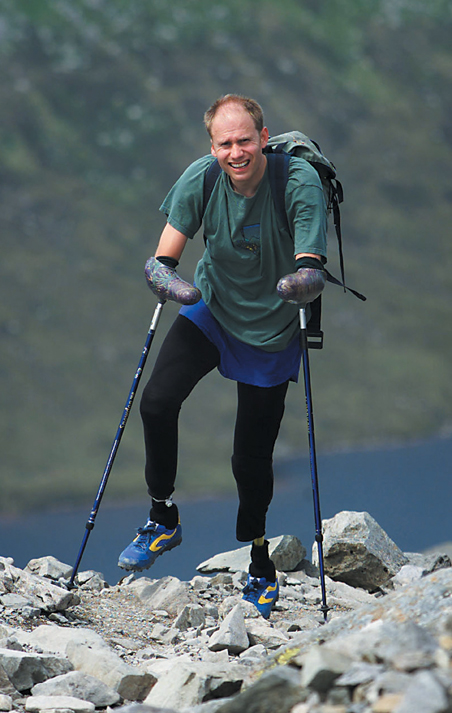 You went on to make a fast recovery, returned to work quickly and have since gone on to inspire many with your determination to succeed in whatever you do. How easy was it to adopt this extremely positive attitude and did you know you would keep fighting on in life from the time of the operation?
I realised early on I had two choices – either give up and fade away or throw myself into the challenge, stop tormenting myself by reliving the events and acknowledge that I was the lucky one with a second chance. I owed it to Jamie's memory to push on, which was a powerful tool. Inspired and helped by the immense support from those around me I set goals and took one step at a time. I achieved small victories every day, aided by the amazing support of my wife, family and friends.
Your achievements since the loss of your hands and feet have been so remarkable that most people without your disability would not come close to matching them! What have some of the highlights of your recent challenges been?
I've been on an incredible journey since 1999, climbing Ben Nevis in 2000, climbing several times in the Alps and taking part in numerous marathons and triathlons, as well as getting back on a snowboard again and doing charity work. But many of my toughest challenges have been more mundane like learning to walk and feed myself again. It was a sobering thought that had I died on that ledge I would never have known the joy of having my kids.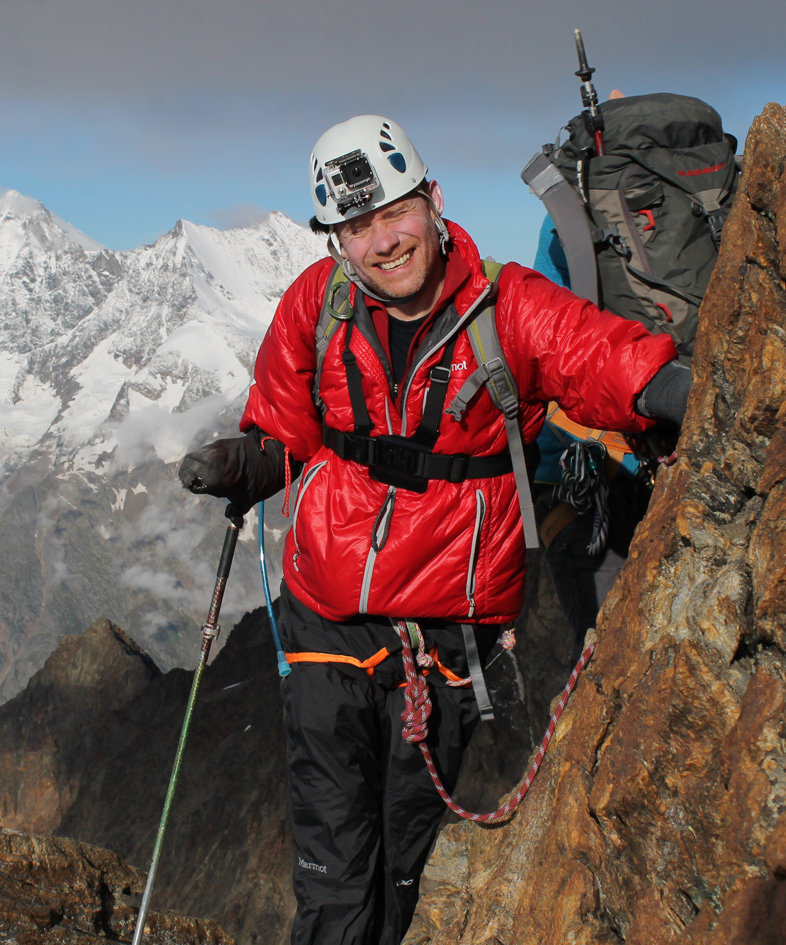 You have returned to the Alps many times. How important was if for you to get back on those mountains?
When I returned to the Alps I wasn't thinking about climbing there, but it was important to return and see those mountains again. I flew over the area where we had climbed in a helicopter and saw the ledge that we had been stuck on. This experience helped me to realise it was a human tragedy and that the mountains were not to blame. Equally important was getting to meet the doctors and mountain rescuers who had helped and they have since become my close friends.
You have been presented with several awards for your achievements in life. What have these meant to you?
It feels incredible to be recognised for what I have achieved but it is not something I expected at all. I am just a very ordinary person who has found himself in remarkable circumstances which have given me the chance to shine. If this inspires others then that is great.
You have featured in several films and documentaries. How does it feel getting on camera and knowing you will inspire those watching?
As I mentioned above, I never expected all of the attention I have received or being in the public gaze. As for being on film in documentaries, I don't think I will ever get used to being in front of the camera.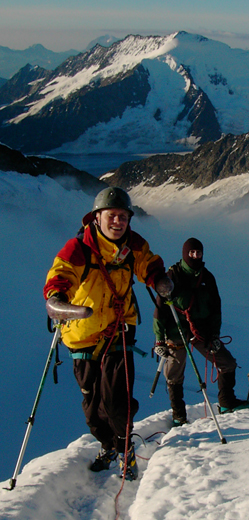 What can readers expect from your book Life and Limb?
I wanted to write the book because so many things have been said about me that aren't accurate, I wanted to tell the entire story as I had seen it through my eyes. This helped me to finally come to terms with what had happened. The book tells my complete story from the death of Jamie Fisher, through the rescue and on to my return to climbing. It's a story of tragedy and triumph over adversity.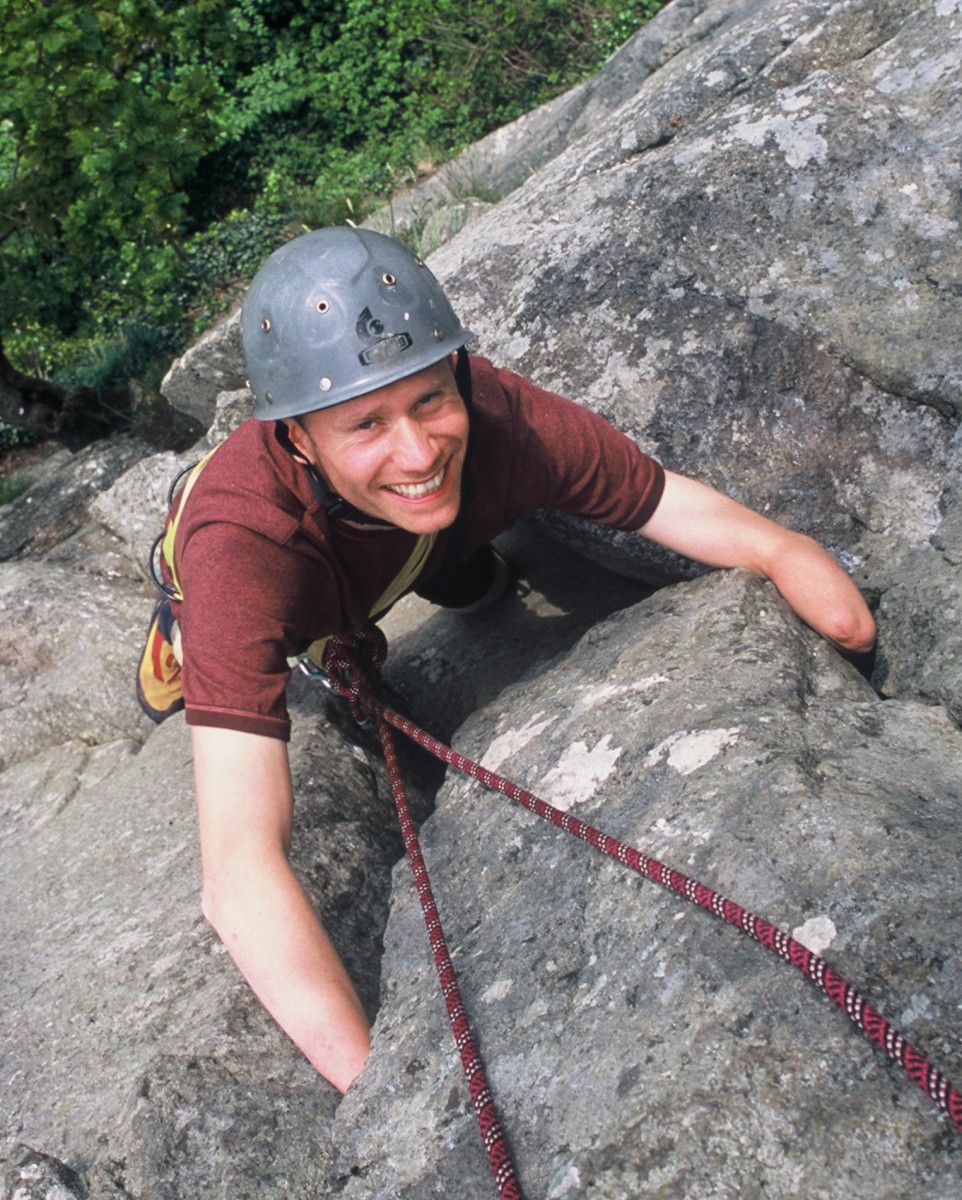 You are a public speaker (and available for hire!). If you could sum up the message you try to give to people what would it be?
I try to tell my story as simply as possible but messages come out of that like never giving up and triumphing over adversity. The challenges we face in life are 95 per cent in our heads, if you believe in yourself you will achieve your goals.
A big goal for two years has been to climb the Matterhorn. I came very close when I climbed with the film crew and would like another go 
Do you have any exciting plans for the future?
A big goal for two years has been to climb the Matterhorn. I came very close when I climbed with the film crew and would like another go but it won't be this year because of the weather so maybe next year. I work on the board of my charity to steer it in the right direction but my biggest plans involve my wife and kids.