What do you see as your biggest achievement in the last few years?
Creating and running a successful rock climbing guiding service on the Niagara Escarpment that has created learning opportunities for aspiring rock climbers, and job opportunities for aspiring climbing guides. (www.ontherocksclimbing.com).
Also, bringing climbing certification courses to Ontario. It's something that was seriously needed as there were no local opportunities to get accredited by a recognized organization. And now more and more guides and climbing companies are  getting accredited by PCGI, so we can keep climbers safe and teach the most current industry standards www.climbingguidesinstitute.org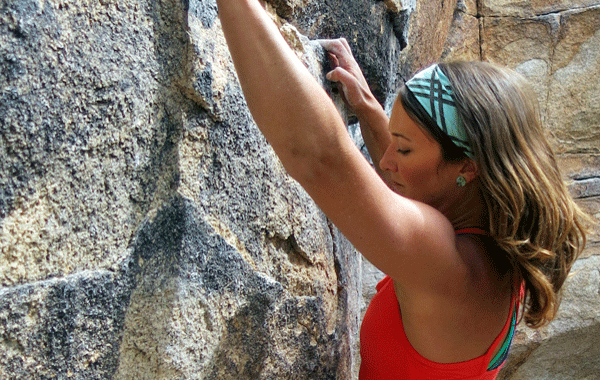 What's one climbing goal you'd still like to accomplish?
I have a life list of climbs I would love to one day do. My focus has really turned to pushing myself in traditional climbing and on some of the crack test pieces across the globe.
What's your favourite movie?
So hard to pick but I can quote "Anchor Man" and "Office Space" word for word. So perhaps that says something. Pulp Fiction is classic too. 
Actor?
Perhaps Will Ferrel, I love a good laugh and he cracks me up.
Musician?
Bob Marley always keeps things in perspective for me. I was raised on it.
And author?
Not much of a reader! Except for climbing guidebooks.
If you had time to put your energy into another sport what sport would that be?
Paddling, I love being on the water and I think that one day I will go back to my first passion: whitewater canoeing and canoe tripping. I also just got into Stand Up Paddle Boarding, it'd be interesting to try some whitewater sections on those!
Where's your favourite place to relax?
Joshua Tree, California.
Tell us about a really embarrassing moment?
Probably a dance competition in high school. We practiced for weeks and then our music skipped ahead partway through the performance and we were left standing on the stage completely lost and out of sync. 
What do you love most about the internet?
It allows me to stay connected with so many friends across the globe. It is also an incredible tool for promoting my business and handling bookings.
Which athlete's inspiring life story has had the biggest impact on you?
My friend and retired pro climber and competitive cyclist: Jany Mitges. She has survived a lot of difficult things in her life, most notably breast cancer. Yet she still continues to amaze everyone with her positive outlook, supportive energy and athletic prowess.
What's your best characteristic?
I aspire to be the best version of myself. So perhaps my ability to learn from experiences and past mistakes so I can continue to grow as a person/climber/guide. I also like to spread good energy, there's no time for drama in the short time we have on this planet.
And worst habit?
I love climbing too much. So much that I usually overtrain and hurt myself more than I should. I am continually reminded to strive for balance and long term gains rather than short term wins.
If you could order any three-course meal what would it be?
Super cheesy lasagna, real Caesar salad and cheesy garlic bread. For desert: homemade apple crisp with vanilla bean ice cream. The funny part is I am gluten and lactose intolerant! 
If you had to get stuck in an elevator with someone who would that person be?
My hubby.
What's your most used curse word?
Not proud to say but perhaps the F word. My mum is part Irish, so I grew up in a family of sailor mouths! 
What are you most afraid of?
Planes.
What makes you happiest?
Dangling from a cliff in a beautiful place with my friends cheering me on below.