ED WILLIAMS is a marathon swimmer from the UK whose dedication to the sport and charity has seen him achieve much over the last ten years.
He is one of the youngest people in history to have swum the English Channel and in the process raised more than £60,000 for Cancer Research. It was in 2006 when Ed set up Elite Swimming Academy Ltd which has now taught thousands of adults and children to to swim. 
Over the next two years Ed will aims to complete the Oceans Seven Challenge which involves a Channel Swim on each of the seven Continents. It's all for charity and the money will be going to WaterAid which provides safe and clean water to people in the world who need it most.
Ed talked to us more about the challenge as well as his early life and other successes in swimming.
When did you first start swimming and what were any early achievements and successes?
I started swimming at a very young age as I grew up in the countryside around lots of lakes and rivers so my parents wanted me to be safe. I was two years old when I started proper lessons and by 11 years old I joined my local swim club after mastering all strokes.
By 14 I was captain of the swim club and one of the fastest swimmers in the county of Cambridgeshire. By 18 I was Nationally ranked but around the same time I discovered a love of open water swimming and that took over from competitive swimming. Although I still did a lot of swimming in pools my love of channel swimming had become the main pursuit.

You are one of the youngest people to have swum the English Channel and in the process you raised £60,000 for Cancer Research. Could you give us some information about that experience and how important was it for you to reach that goal of raising such a huge sum for the charity?
Swimming the English Channel was a lifetime ambition so to achieve that was incredible. I chose Prostate Cancer Research as it was my father's field of work and I thought if I was going to do something as big as swim between two countries then doing it for charity would only heighten the experience by benefiting so many other lives. A full write-up of this channel swim complete with pictures and video can be viewed here.
Could you give us some of the background on Elite Swimming Academy LTD and what inspired you to set it up?
I started to teach swimming around the same time as I swam the English Channel to earn some pocket money and I soon discovered that there was a huge lack of quality swimmers in the teaching environment. I saw a niche for a high end swim school run by swimmers who had achieved great things to fast track children's development and inspire them every step of the way. I started with a handful of private clients and grew it into a company teaching thousands of children and adults every week on the ethics of quality and integrity. It is wonderful to run a company that I am so passionate about on such a personal level and it all started with swimming the English Channel.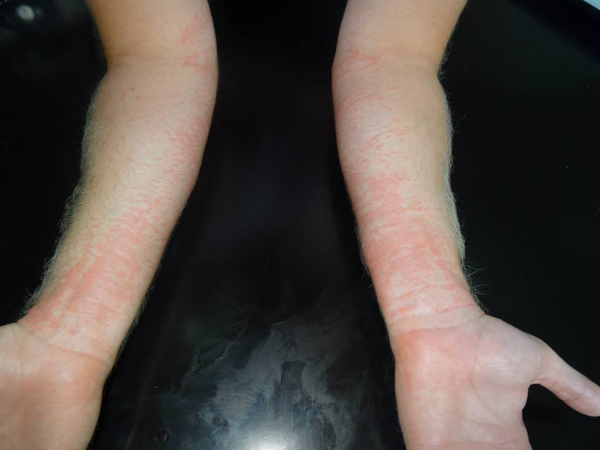 Ed's attempted swim between Ireland and Scotland ended in disaster after he was stung by hundreds of jelly fish.
What have been some of your most challenging swims and what have been some of your scariest moments in the water?
The hardest swim I have ever done was my 2014 attempt to swim between Ireland and Scotland which ended in disaster with me nearly dying 20 miles in with just two to go after being stung by hundreds of jellyfish. You can read more about that here.
You are currently training for you next big swim which will be a channel swim across the North Channel between Ireland and Scotland. How is the training going and could you explain more about the Oceans Seven Challenge which this is part of?
After not making my swim between Ireland and Scotland last year it would be very easy for me to give up but it is unfinished business for me so I am going back this year in July. I am swimming a month earlier when the water will be even colder but as a result there will be less jellyfish which is what got me into trouble last time. I guess I am swimming one evil for another but I am confident this will give me a greater chance of success. The North Channel is the toughest open water swim in the world so I am scared to return but hopefully I will be okay.
It is part of the oceans seven challenge which involves swimming the hardest channels in each of the seven seas. In two months time I am swimming between Europe and Africa across the Strait of Gibraltar to cross another off the list. The final aim is to be the youngest of the five people who have ever done this challenge by completing it by the time I am 30 next year.

You always swim for charity. What is the charity that will benefit from the Oceans Seven Challenge and how can people find out more and how to donate to the cause?
I am swimming for WaterAid as I wanted a water based charity. The aim is to provide safe water and sanitisation to parts of the world that truly need it.
Find out more about Ed Williams and how you can sponsor his Oceans Seven challenge at www.edwardwilliams.org.uk