NEKO CATANZARO is a rock climber who has climbed and travelled all around the world. A boulderer first and foremost she doesn't mind heading out alone with her crash pad and topping out without a spotter.
Having grown up in Rhode Island she was surrounded by woodland and trees to climb throughout her childhood and has since had the opportunity to explore more amazing climbing spots across the US and abroad.
She lived out of a van for six months climbing in Castle Hill, New Zealand, and has travelled in the Middle East which included a month spent in Syria.
Here she talks to us about her passion for her hobby as well as her love of travel and the outdoors.
Where did you grow up and were you involved in outdoor adventure from a young age?
I grew up in Rhode Island, the smallest state that boasts an extensive coastline. Across the street from my house was a small wooded area with lots of vines and trees to climb. Down the road was the beach, needless to say I was never bored. Luckily, I had parents who gave me the freedom to adventure around on my own. The outdoors was always entertaining and continues to be.
When was your passion for climbing and bouldering ignited and who or what were the key influences?
At college, I met a few climbers who would recreationally scale campus buildings. I think there was even a campus 'buildering' guidebook.
Eventually I hit up the local gym that was only 15 minutes away and from there I became an outdoor regular at the nearby Lincoln Woods (a small bouldering area with many a Dave Graham first ascent).
However, my love for climbing was truly ignited when I returned from a year abroad in Australia. I really dedicated myself to getting stronger, and often found myself alone with my crash pads at the woods. It was meditative and inspiring.
Your hobby has taken you around the world. What have some of the highlights been and what do you see as your biggest achievement?
The first time I saw pictures of the beautiful, lunar boulders of Castle Hill, New Zealand, I knew I had to climb there. So, as soon as I graduated from college I made plans to spend a year working and climbing on the South Island. Ironically enough, there was a 7.2 earthquake the day after I arrived. It left the city in a state of chaos and rubble. I scratched the working plan, and instead it became purely about climbing.
I still can't say that New Zealand is my biggest achievement. It's hard to choose, and maybe it is still in the making. New Zealand was amazing, unparalleled, but so was my time travelling in the Middle East. During the summer of 2007, I spent a month in Syria, living in a lovely, decaying apartment in Old Damascus. It was literally a backdrop akin to Aladdin Prince of Thieves.
The locals were so friendly, open and inviting. They were always asking me out to tea so they could practice their English conversational skills. The sounds of that city still resonate with me, the 'Call to Prayer' echoing throughout the streets, the glowing green lights of the mosques at night. It saddens me to think that the city I experienced is no longer in existence. The shops and restaurants I frequented are probably no longer there, and many of the friends I made may no longer be living.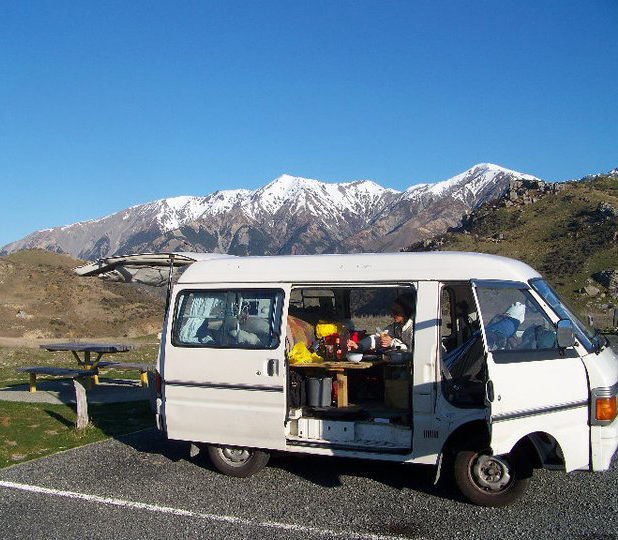 You once lived out of a van for six months climbing in Castle Hill, New Zealand. Could you tell us more about this period in your life and what are a couple of your craziest stories from your time on the road?
Living on the road produces a wealth of experiences that are either a good time or a good story. I probably have a crazy experience for every week I was there, but the Cave Stream Scenic Reserve walk is definitely worth talking about. The Cave Stream is a popular activity for those who venture out to Castle Hill. Basically, you walk upstream, battling an icy current and darkness for a 1/4 mile.
At times, the water was up to my waist and shoulders. It was my first caving experience, and hopefully not my last. Slipping through the narrow passages, I was constantly bracing myself against the smooth, twisting cave walls and readjusting my headlight to see the upcoming obstacles. The Cave Stream ends with a deep pool and a 12-foot waterfall. I was freezing by the time I climbed the iron rung ladder that allows you to climb past the falls. It is a must do if you ever head to New Zealand, and even though I was cold at the end, I wanted to do it again.
If you are not afraid of the dark or the cold, and are relatively fit, the Cave Stream is a must do.
You blog and using social media to spread your message and let the online community know what you are up to. Where can we find you and how important are these concepts in enabling you to share your passion and connect with those with similar interests?
As a public relations writer and specialist, I have learned the power of social media. I tweet @pitchperfectpen and I post my climbing and adventure photos on Instagram @Rock2Ocean. I love connecting with other climbers and nomads. I think those of us who have a case of wanderlust benefit from sharing stories and travels. It helps rationalise my personal choice to live in the moment. In the future, I look forward to expanding my freelance writing portfolio, especially in regards to the outdoor adventure scene.

What advice would you give to those interested in trying out some form of climbing for the first time?
Find a nearby rock gym and check it out. Most climbing gyms have bouldering and top rope areas, that way you can try both forms of climbing and find out what you prefer. Heading outdoors for the first time can definitely be intimidating. It requires a lot of finger strength and can be discouraging if you barely get off the ground, but just keep at it! Strength and skill comes with practice!
You often head out alone with your crash pad and without a spotter. How do you ensure you're never too close to danger and how does it feel to be alone immersed in nature doing something you enjoy?
I love doing things outside on my own, it is meditative and relaxing. When climbing solo, I try to be smart, but sometimes I get caught up in the send. I have broken climbing holes and have missed my crash pad many a time, you just have to be aware, let your body react and hope the adrenaline gets you through a rough fall. To avoid all this – bring some spotters along.
Do you have any exciting adventures planned for 2015?
My other half and I hope to get a surf trip in this fall. I really want to get barrelled by some clear, bright blue water. I am not sure where we will go, but I have a line up of a few places… Bali, Morocco, Nicaragua, though the ultimate destination would be Tahiti. To me, Teahupoo is the most exquisite wave I have ever seen.