AFTER moving to the US to continue his education Ivan Matip found he had to adapt to a different culture and lifestyle. As well as an excellent record in the classrooom he used his prowess on the basketball court to make friends, find a common interest with others and win the respect of many. Basketball also paved the way for him gaining a sports scholarship to college.
We talked to Ivan about his life to date in the US, some of his successes on the basketball court and his ambitions for the future.
When did you first start playing basketball and were there any particularly strong influences who encouraged and helped you from an early age?
I first started playing basketball at the age of eight in my home country of Cameroon. In the US that would be considered a late age to start a sport, but back home it was actually considered early. Up until that age I was playing soccer, because that's kind of the 'national sport' back home. Everybody in Cameroon starts with soccer, before switching to something else later on if they choose to do so.
I started playing basketball because a basketball court was built just one block away from my house; it was the cool new thing, it was very intriguing for my friends, my older brother and me. I remember the basketball was too heavy for us so for the first months we were shooting hoops using a soccer ball. It was much lighter.
I would say that my strongest influence was the competition between my best childhood friend Steve, my older brother Dadson and myself. See, we were kind of ahead of our time with a 'Big 3' of our own already. All three of us were very close, and we were competing with each other all the time. But whenever we would play on the same team, no other trio in the entire city could beat us. We were legit!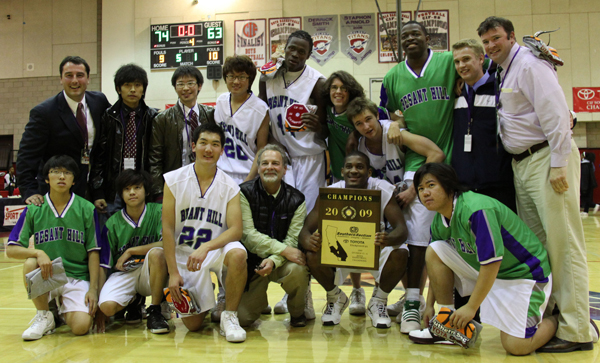 What level did you get to at High School and what were some of your highlights there?
I actually moved to the US as a high school Sophomore in 2007. I went to Besant Hill School, a very small college prep school in Ojai, California that was more known for its arts than anything else. The school had not had a basketball team for almost three full years when we got there.
When I say 'we' I am referring to myself and another Cameroonian who came the same year as me. Internally a lot of the school community was reluctant at first to really get behind us because they felt like we were going to change the tradition. But we didn't change the tradition, we just changed the culture by bringing a kind of excitement that the school had not seen in a very long time.
My Junior and Senior year we won back-to-back league and CIF championships (regional tournament), but we came up short in the first and two rounds of the state championship those two years.
How did you find the level of basketball in the US compare to back in Cameroon. Was it easy for you to adapt to life in the US?
In Cameroon we are usually very strong and athletic; but one of the main problems that we have when we come to the US is that our basketball IQ isn't as high as that of the players that grow up playing here. The reason is that not only is the level of competition back home not as high, but also we don't grow up in a culture of basketball like the kids here. Like I said before we don't start at a very young age, we don't have a quality infrastructure and the conditions in which we play are usually pretty rough.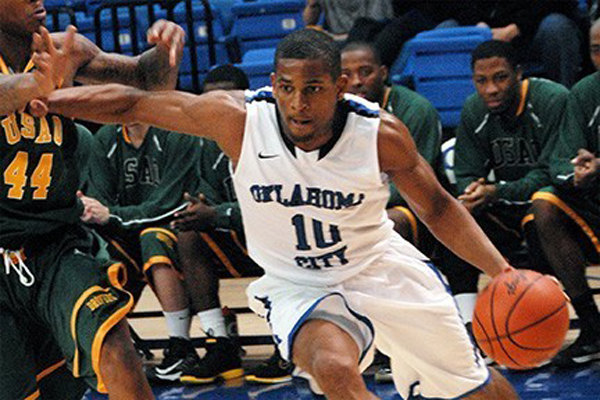 Could you tell us about your time playing for the Oklahoma City University Stars and what were some of your successes on the team?
I came to Oklahoma City University as a junior transfer and started my college career at California State University, Bakersfield. It was a new division 1 NCAA school, so as an incoming freshman there was a whole learning curve I had to go through.
My first year was very promising, but after that first season the coach who recruited me got fired and a new coach came in, bringing a lot of his new guys with him. That's usually how it goes in the business. So, I stuck around one more year, but after that second year I had to transfer. 
I came to OCU looking for a better academic environment to complete my degree, but also for some more playing time. The programme welcomed me well, there were a lot of guys on  the team for whom it hadn't worked out so well in their previous schools and they too, were also looking for a place to 'rebound' and get a new opportunity. 
My Junior year we struggled a little bit at the beginning of the regular season, but towards the end we came together at the right time. We finished fourth in the regular season, made a nice run at the end which allowed us to win the Sooner Athletic Conference tournament and qualify for the NAIA national tournament in Kansas City, MO. That was in 2013. 
My senior year wasn't as successful; we had a really good team but we came up short at the conference tournament and failed to make back-to-back appearances to the national tournament.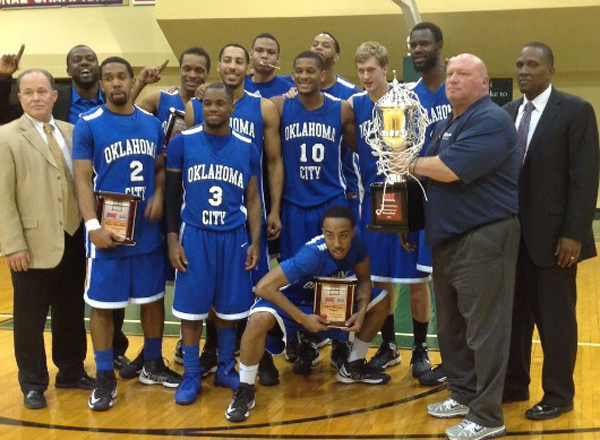 Who in the world of basketball do you most look up to and for what reason?
I wouldn't say that there is someone really in the basketball world that I look up to. The reason is despite my love and passion for the game, I never considered myself as 'a basketball player' in the pure sense of the term because I knew my gifts and potential were far greater than the game.
However, there are people who I admire in the basketball world because of their story, because of how they were overlooked in high school or college, because of how they beat the odds before they got to a level where they could inspire people and touch many lives outside of basketball. 
I think about guys like Russell Westbrook here with the Oklahoma City Thunder, Stephen Curry of the GS Warriors who has an incredible story and is now shining on the national stage playing in the NBA finals. There are a few more guys that I respect in that regard, but these are two of my favourites at the moment.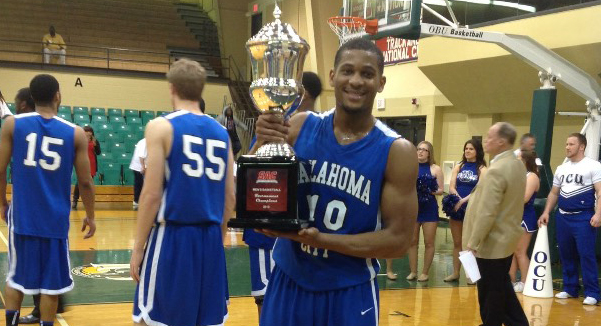 Have you been playing basketball since you got your undergraduate degree in 2014 and do you have any ambitions in the sport for the future?
Since I got my undergraduate degree I have been playing just to stay in shape, but not competitively. I've been working on a Master's degree in Leadership and Management, and working part-time as well. I haven't had as much time as I used to when I was a student-athlete. That being said, I miss the game like crazy! I miss competing on the court, playing for my teammates, winning games, and working hard towards a common goal.
As far as basketball ambitions for the future, I honestly don't know. I've always thought I could be a great coach, teaching the game to younger brothers, but also using it as a platform to help them succeed in life in whatever they choose to do. 
My last experience as a coach was last year in the July 2014, when I got invited to coach for two weeks at the Thabo Sefolosha Basketball Clinic in Switzerland. It was great and a fun experience, I met a lot of great people and really enjoyed sharing my knowledge with the kids there. 
But I can't really say yet if I'm going to make a career in that field. I'm a journey man, my story is still being written, and we'll see what God has in store for me.
What can basketball teach young people about life and what do you owe the sport most for in your own life?
First and foremost, basketball was my ticket to come to the states. Without basketball I wouldn't be where I'm at today, having the opportunities in life that I have today. But like I said before I never viewed myself as just a basketball player because I knew I had a lot more to bring to the table. This is often a hard concept for people to grasp because they see you on the court or in the gym, and they automatically assume that basketball is all you are. But for me, before I even came to the states as a high school sophomore I already had goals that were bigger than the game. 
That being said, I am grateful for the game of basketball because it allowed me to come to this great country, get an education, meet wonderful people along the way, build a competitive mindset and develop the kind of mental toughness that will serve me for the rest of my life. And that's what I want young people to learn. Basketball is a platform that can open a lot of doors and help people accomplish their dreams, whatever those may be.
When we're young we all dream of playing professional, and there's nothing wrong with that; you have to dream and dream big. I'm a dreamer myself, and I've been living my dream for quite some time now. But the reality is only a small percentage of people get to make it to the professional level. Not getting there doesn't mean you're a failure, because so many things have to go right in order for someone to make a career in sports. 
My advice to young people is this: take full advantage of the opportunity that's given to you through basketball. Don't take shortcuts, take your education seriously, fight, give it your all on the court, and go as far as you can. Do those things and when it is all said and done you will be proud of yourself, and your family will be proud of you. That's what it's all about.