OLIVER CUASON was overweight, unhealthy and unhappy. He knew something in life had to change. With the support of his family and close friends he decided to use the sport of triathlon to better himself and improve his lifestyle.
From finding it extremely tough at the beginning Oliver has gone on to have some great success in the triathlon races he has competed in. Here he talks about his commitment to the sport and his triathlon aims and ambitions for the future.
When did you start out in the sport and who inspired you to give it a go?
I started racing in 2012 as way to lose weight. I was over 90 kg (200 lbs) and was treating my body like garbage. I was 'fit' in high school but then in college got into the social atmosphere and things went downhill from there. The people who inspired me to give it a go was my wife and kids. I was obese with a body fat index above 25 per cent. I wanted to be a good role model and knew my life had to change. Someone had mentioned signing up for a Sprint race. I thought it was going to be easy since I was already biking with the kids during the weekends. Also I had swam a little in high school and how hard could running three miles be? As you probably guessed it, two hours, 30 mins later, I crossed the finished line, dead last.
What have been some of your greatest successes on your triathlon journey so far?
There's been many milestones that I'm proud of achieving. Mostly all personal goals that I've set for myself. In 2015 I placed second in my AG for International distance at Multirace Trilogy series. In that same year I PR'd at Ironman Miami 70.3 finishing the course in 5:35:14. This was ten minutes faster than the prior year. But my one success story has been staying clean, losing 50 lbs and being smoke free. I'm a whole new person today than I was four years ago.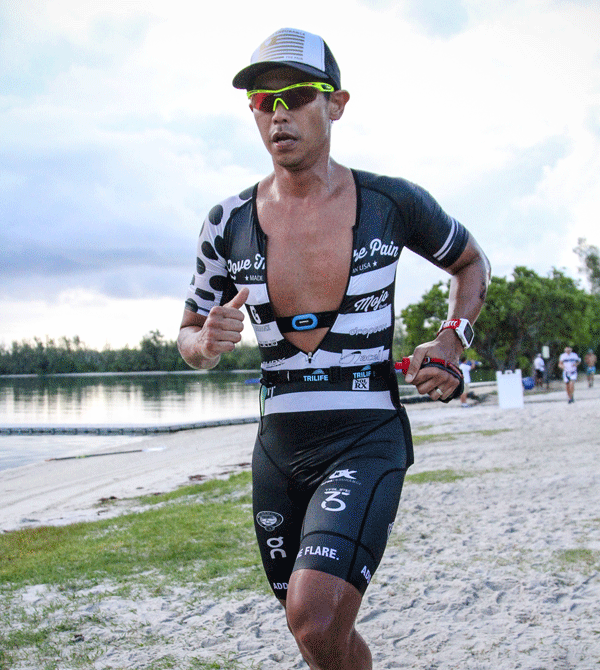 Who have been your biggest supporters and mentors along the way?
My family has been my biggest supporters. They have continually pushed me to be a better person every day. Another big supporter is my coach who gives me daily advice to be a stronger athlete. Finally social media has surprisingly given me a source of inspiration when things get down. The idea of complete strangers who know nothing of each other but have this one thing in common can come together in a space is mind blowing. Your readers can find me on Instagram @TriLife365 where I document the daily struggles and successes we all go through.
In which discipline do you excel at and at which do you have to work the hardest?
My strongest discipline is the bike ride. It would make sense since I've spent two of the four years in this sport focusing on the bike. This year I've started to work on the swim and run. I've seen significant improvements in my swim splits but need to work more at the run.
How hard are you currently training and what is your daily training routine?
I train 6 days a week. During the weekdays training can last from  90 minutes to two hours. During the weekends training can last from two hours to four hours.
Monday – run day between five and eight miles depending on the workout.
Tuesday – strength training for 60 minutes then 3,000 yards swim in the afternoon.
Wednesday – stairs workout in the morning and then an easy run in the afternoon.
Thursday – bike/run brick session in the morning following by 3,000 yards in the afternoon.
Friday – run/swim/run brick session.
Saturday – long bricks which will involve being on the bike for more than 40 miles followed by a three to six-mile run post.
Sunday – off day but can be found doing light and easy three-mile run.
What events and races do you have coming up next and do you have any other projects lined up for the rest of the year and beyond?
I have two international distance race in August and September. An Olympic race in September and a half-Ironman race in October. Then I have a full marathon in January.
I have a century ride for Cancer Research in February. Then possibly another Half Iron Race in April before participating in a 100 mile relay race from Miami to Key West in May.
Sometime within the next two years I will commit to a full Ironman distance race.