HAVING won the European Championships and the World Championship Series triathlon in Madrid in 2010 Nicola Spirig reached the ultimate goal of any athlete when she won gold in the women's triathlon in 2012. 
Here she talks to us about her memories form the Olympics three years ago as well as how her journey into triathlon began.
Nicola is passionate about organising sporting events for children which you can find out more about here www.nicolaspirig-kidscup.ch.
What sports were you involved in when you were younger and when did you start training for and competing in triathlon events?
I grew up doing a lot of different sports. Both my parents were PE teachers, so I had the possibility to try out a lot of sports.
At primary school I was in the local gymnastics club, played basketball, was part of the swimming squad and did a lot of skiing, snowboarding and mountaineering in winter time. I think I started with some little competitions at about eight years and I did my first triathlon when I was ten.
However serious training focussing on one sport only started when I was 16 years and competed in my Junior European Championships.
Could you tell us about some of your biggest achievements in triathlon and how it felt to win Gold in the Olympic Women's Triathlon in 2012?
Winning the gold medal at the London Olympics was definitely my biggest achievement and absolutely amazing!! It's not possible to explain the emotions I felt but it was just an incredibly special moment in life! Standing on the top of the podium and hearing the national anthem is something absolutely unique, especially when you know how long and hard you worked for that moment, how many people have helped you to get there and how few athletes are ever going to experience that moment!
However I am also proud of other achievements, like being four times European Champion, Vice World Champion 2010 and the first ever European Games Champion this year.
You've also competed as a long distance runner. Could you tell us about some of your greatest successes in this discipline?
Yes, I did my first two marathons last year, one to qualify for the European Championships and the second one to run in the European Championships last year. I ran 2:37 hours on a very hilly, tough course and came 24th. For me it was a very interesting experience which will definitely will help me improve in the future.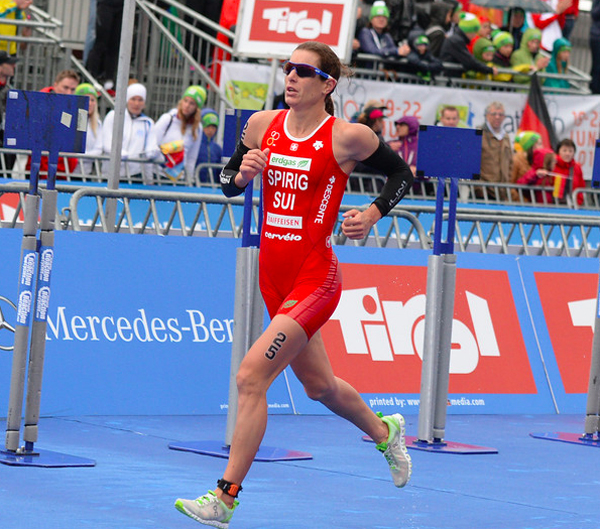 In the sport of triathlon which area do you most excel and in which do you have to work hardest?
I think I have to work the hardest in the pool to get to a very high level. Swimming was never my strength. I am a strong cyclist and a fast runner, but training there is also pretty hard, as I want to become the best I can be in all three disciplines.
How much are you currently training and what is the next competitive event you have in your sights?
I am training between 20 and 30 hours a week. Having a family (son of two years) and obligations as an Olympic champion make my days very busy and I have to see how I can fit everything into the day.
The next race will be the ITU Olympic distance European Championships in Geneva, Switzerland, my home country.
How do you like to spend your time when you are not training or competing?
Definitely with my family out in nature!
I am also organising a race series for kids (www.nicolaspirig-kidscup.ch) together with my husband and local people – six triathlons with very short distances all over Switzerland. I try to give something back, show kids how they can have fun doing sports and inspire them. It's great to see the kids have their first experiences with triathlon and having fun while exercising!
What is your message to those who are inspired by your success and dedication to everything you do?
Follow your dreams and work hard for your goals, its worth it!