ALTHOUGH she experienced rowing at ten years old it wasn't until Imogen Walsh was at university that she really got involved in the sport.
Imogen joined a rowing club after university and was soon encouraged to give making the GB team a go. She soon made the cut and started rowing internationally where she has enjoyed many successes along the way. Here she talks about some of those as well as her current work furthering the sport in the Maldives. Read on to find out about her rowing ambitions for the future as well as some of her work with those in poverty in different places around the world. 
When did you start rowing and who inspired you to take up the sport?
I actually first coxed when I was about ten years old, up in Inverness, purely because I was small… It didn't really interest me all that much if I'm honest.
I only really took it up again when I was at university because the Boat Club social life was pretty good! (And, I'm ashamed to say, there were lots of tall muscly boys!).
Then one day I ended up rowing because one of the crew didn't turn up for the session, and it went from there. I never had international sport as my goal, all I aimed for was to be the best I could be in something I really enjoyed. I'd always enjoyed sport, but never really focused on one alone.
After I left uni I joined a local club and started doing more sculling (two oars, instead of one, and currently the only international discipline for lightweight women). I just kept at it and with practise and training seemed to improve.
I think the turning point to thinking internationally was when a guy called George Warnock, a Glasgow rowing institution, said to me after racing one day "you should start saving your pennies and get yourself down south" (meaning to where the GB training base is). It was probably the first time I actually thought about going for the GB Team. I think I was 25 years old at this point, and didn't trial until the following year, making me really old to start out my rowing career! In some ways I wish I had started earlier, but in other ways I'm glad I didn't, I had the opportunity to work for a fabulous international development charity, Mary's Meals, to see and contribute to the work that they do, and gain experience of 'normal' working life before going into the slightly bizarre world of professional sport. 
What were any early successes and when did you realise you had a real passion for rowing?
I'm small, even for a lightweight rower, so at uni I always had to punch above my weight (literally). I was never the strongest on the erg (rowing machine), but I was in the ballpark. It meant though that I had to excel technically if I was to make up for being considerably shorter and lighter than the other girls. I don't think it was until I started single sculling that I really felt able to do myself justice, and when I started to win events, such as Scottish Championships, my first 'big' domestic regatta, one called Metropolitan Regatta, the British Championships, and being part of a crew to qualify for Henley Royal Regatta.
I then decided to go to GB trials to see how I would fare against the 'big dogs' of the sport, and did well enough to be invited to train with them for a couple days, and which led on a few more days, few weeks, months…
The thing that first drew me to the sport (apart from the social life), was being outdoors. In a city there are few places you can go where you are away from traffic and buildings, from people and noises… The river in a city is often a world where few people get the opportunity to go, I loved being out there in the open space, and feeling like I was so lucky to be seeing the city from a perspective that few get. This was even more the case when I moved to London to break in to the team – how many people get to go out on a boat on the Thames every day?!
As well as the outdoors aspect, I love the training, I love to push myself and sadistic as it sounds, to make myself hurt! I love the combination of individual challenge, in a team environment; where your hard work feeds into a group goal.
When were you first selected for Team GB and what were some of your highlights while representing your country?
I first raced for the GB Rowing Team at the 2011 World Championships in Bled, Slovenia. It was my first international race and we won! So that got things off to a pretty good start! I have won a few World Cups, and medalled at a number of others. The most pleasing successes though are the least expected ones – one being a little known race called the Wingfield Sculls, raced on the boat race course from Putney to Chiswick in single sculls. I was against six other girls about a foot taller than me, and all exceedingly good scullers! It's a really long race and normally you'd try and pace ourself over that kind of distance, but I figured I had to race the first part like that was all it there was, and then hopefully hang on for the rest of it. It's the most painful but most satisfying race I have ever done.
The other part that stands out for me was after a winter of illness in 2014/15, when I subsequently lost my seat in the only Olympic class boat for lightweight women, the double scull, I won the European Championships in my single scull, and came second at the World Champs. In light of the season I had had, this was pretty good, although for me is always tinged with sadness at what might have been had I not missed so much training that winter.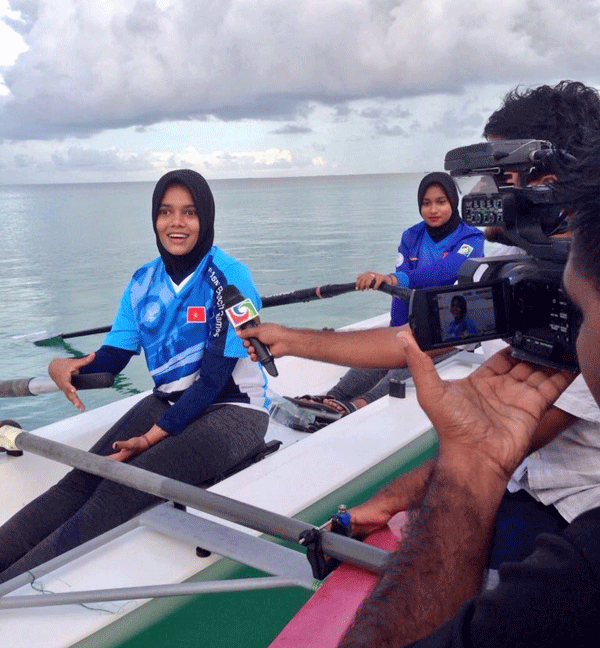 Tell us about what you do in the Maldives and how it compares to what you have previously done abroad in the past?
I am currently working in the Maldives, developing its rowing programme. The aim is to first increase general participation in the sport, but especially among women. I also hope to try to increase awareness of the need to take care of the environment too (there is an alarming disregard for it here, ironic when tourism is something that is so huge to their economy).
Second, the hope is to push on the high performance stream, so that the Maldives can take part in the international events. As the rowing here is on the sea, this will mostly focus on coastal rowing, but we are also looking at shipping out some second-hand 'fine' boats (the type you see at the Olympics, for instance) so that they may also develop their skills in that area. 
Other than the backpacking 'adventures' I've done in the past, I have done two more focused projects. First there was the time I spent in a village in India, which officially was to teach English, but really I felt I did more in working the orphanage there. It was for abused or orphaned boys, or simply boys whose families couldn't afford them. They were treated by the community as reprobates, kids who would never come to anything, and so they played up to this. I tried to teach them that they could be anything that they wanted, that being in the orphanage wasn't a life sentence to crime, but an opportunity to get an education and make a better future for themselves.
It was fantastic going back a couple of years later and meeting some of the boys in Bombay, where they had gone to do an electricians course, the first time any of the boys from that orphanage had done this. They were now qualified, and could get jobs. I remember one of them insisting he took me for a coke, and that he must pay for it as he was now an earning man. It was great to see. 
The other work-like experience I had abroad was visiting the projects that Mary's Meals (where I used to work) ran in Liberia. It was fascinating (and sad) to see somewhere that had lived through such a long and terrible war. When the guns are put down, the cameras stop rolling, you don't hear much more about the place anymore. But in reality, even if the fighting has stopped, there is still so much infrastructural damage, and what struck me even more, was the mental effect it had on people. It stands to reason that if you have lived through a time when neighbours were killing, raping and pillaging their fellow neighbours, then of course your trust is likely to be low, but it is not something that I had thought about before.
Both the India and Liberia experience showed me how much development is not just about infrastructure and funds and materials, but also about the right mindset, about people BELIEVING in themselves and each other! About having the faith to invest in the future. And that is something I see here in the Maldives too. The key ingredient to development in any field is self-belief and a sense of self-worth, and a belief that hard work will pay off in the future.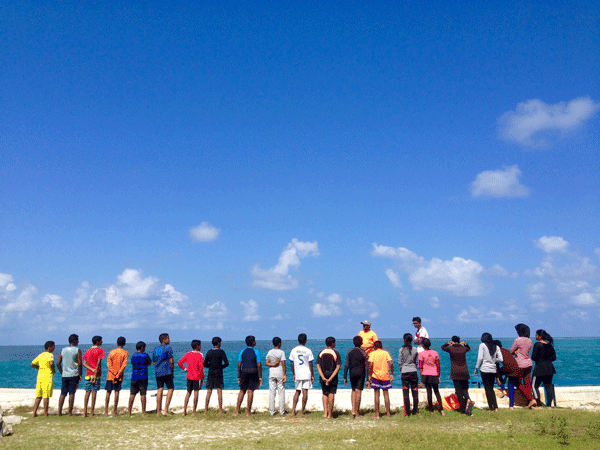 What's the message you try to instil in those on the rowing programme and who are some of the people you work with?
I guess I have largely answered this in the previous question, but it is that whatever path they want to follow, they should believe in themselves, but also invest in themselves. Self-belief is one part, handwork is the other! I'm all for living and enjoying the moment, but to really achieve big goals, you need to work hard in the moment, for a pay-off in the future. The Maldivians seem to have a  great philosophy of making the most of what you have, something that I think I and a lot of Brits could learn from! But I also think that investing in the future would be beneficial too.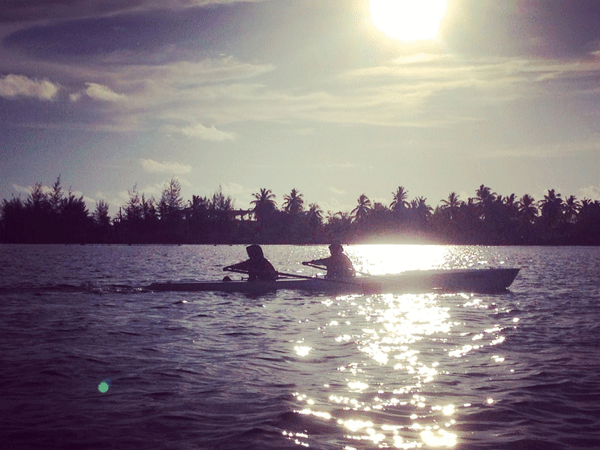 What exciting projects and adventures do you have planned for 2017 and beyond?
I'm still undecided about whether to make a stab at getting back into the GB Rowing Team for the 2018 season, so that decision will shape some of my adventure plans… But currently on the horizon, after a little trip to South Africa following on from my stint here in the Maldives (got some rafting in Namibia on the cards!), I am looking at an expedition to row the Zambezi in August. It's aim is to highlight the issues of poaching in the area, and a project that is using rowing to raise awareness of freshwater issues, something that is ever more important in today's world.  
Other things I have on my 'to do' list, are a big cycle journey, I would like to go through the 'stans, to India. Also to get a 4×4 and make my way up through Africa. And I haven't seen any of South America yet, bar a short visit to Rio. I'm also keen to do the Polar Marathon, walk the Via Feratta, would love to do the Uganda Marathon (this year though I will be at my friend's wedding in Glencoe, equally exciting!).
Would also like to do some kind of river trip, going from source to sea on something like the Ganges. As you can see there are lots of ideas and not much concrete plans at the moment!