BRUNA KAJIYA is a Brazilian goddess. She puts her mother before anything, has worked hard to become one of kitesurfing's hottest prospects and is in prime physical condition.
A PKRA freestyle champion and regular visitor to the PKRA tour podiums, it surely won't be long before Brazil's Bruna will be a championship titleholder.
Here she talks to us about her kitesurfing journey to date as well as some of the other most important parts of her life.
When did you first get introduced to kitesurfing and who encouraged you to give the sport a go?
I first saw kitesurfing from the window of my school, I was in maths class dreaming, staring out of the window when saw a colourful kite fly above the trees. That intrigued me straight away.
I use to run after school, cross the street and sit at the beach looking at the kites. Until one day a friend of mine offered to teach me and it was such an unique feeling that I never stopped ever since.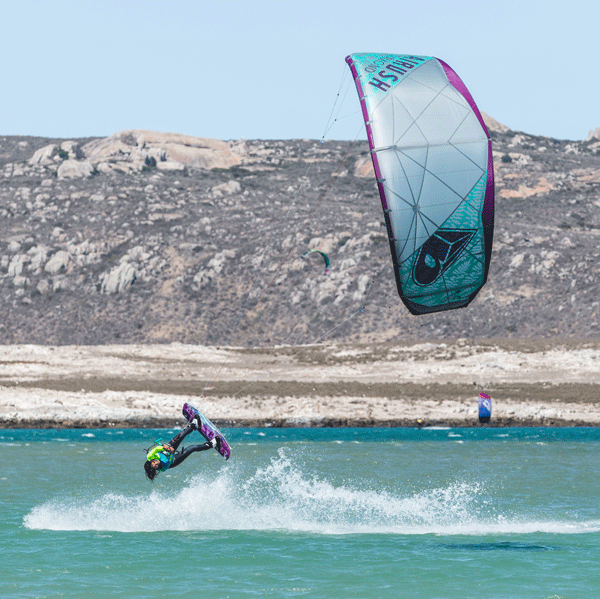 Who were your biggest supporters and inspirations at the beginning?
My mum, she was different from a lot of parents who want kids to go to university and have a stable job. It was my mum was my biggest supporter. She believed in my potential as a professional rider before I even did. She funded my first trips to compete and gave me emotional support through the competition I entered. I feel like the luckiest girl to have her in my life.
Tell us about some of your earliest kitesurfing successes?
My first accomplishments as a kiteboarder were unexpected for me. I didn't know much about competition, not the international level. On my first year on tour I finished third overall and that was absolutely mind blowing. I was just going from competition to conception, by myself, at a young age, just trying to make it through them alive basically! That was one of the year's where I learnt the most as a professional and personally.
What is the kitesurfing scene like in Brazil and how often are you out on the water?
King in Brazil is magical, I truly believe we have the best conditions on the planet and Brazilian people are just amazing. Joyful, open and fun, I love being in north of Brazil and whenever I have a break I'll fly there. If I'm up there I spend my days at the lagoons, the conditions are so good it's hard not to, even when I'm dead tiered, it's just irresistible.
Where in world has the sport taken you and what have been some of the highlights?
The sport has taken me to places I never imagined, from New Caledonia to Norway, to French Polinesia, Mexico, Venezuela, Greece, Chile, Morocco, the Caribbean, Argentina, Egypt, Spain, U.K., Australia, USA, New Zealand, Canada, Germany, France, South Africa, Holland, Italy, Portugal, Dominican Republic, and I'm sure there are some more I'm forgetting.
For me, New Caledonia and Tahiti have been some of my favourites, not only because their natural beauty, but the experiences I've lived there. I've won two of my World Titles in New Caledonia and Tahiti has such a beautiful culture and people.
Tell us about becoming a PKRA champion and some of your other PKRA successes?
To become World Champion was one of my dreams, I feel for a watersport professional athlete is the highest performance you can achieve. I've worked so hard for it and it was an amazing ride! So good that I pursuit another world title and now I'm on a mission to get my third.
The PKRA is now called WKL ( World Kiteboarding League), it has stops around the globe and at the end of the year a World Champion is crowned.
What are you currently training for and what competitions do you have lined up for the rest of the year and beyond?
I'm training in and out of the water at the moment, getting ready for the next world tour stop. I really like combining the water training with the work outs to keep it balanced and efficient.
Movie links:
https://www.redbull.com/br-pt/bruna-kajiya-e-o-back-side-315