KIRSTY started kitesurfing at 22 having already being involved in windsurfing and surfing from a young age. She was introduced to and became passionate about the sport while in Mauii for a windsurf competition. With not enough wind for the competition to take place she was able to give kitesurfing a go and has never looked back.
Despite Kirsty's world titles and the respect she commands as a pro athlete, her interest in people and her passion to preserve the ocean which has given her so much joy are at the forefront of her thoughts and this interview.
Read on to find out about the challenge she set herself after being affected by the poverty she witnessed in Morocco as well as her passion to coach and help others to enjoy sport and the ocean. 
When did you first start kitesurfing and were there any particularly strong influences who encouraged you to pursue the sport?
I started kitesurfing in 2002, when I was 22, but was not easily convinced about trying kitesurfing as I was so passionate about windsurfing and surfing! In the beginning I just saw it as the latest, new, cool extreme sports trend, and my Mum always gave me the advice to focus on one or two things, and do them really well, and not jump over to the next best thing! That's why I got into kiting a little later, and I'm happy about that because I came into the sport and competition with a lot of wisdom and experience about the ocean and competing already.
I succumbed to try kitesurfing while I was out in Maui training for a windsurf competition, and as there was not enough wind for the windsurf competition, it was perfect conditions to have a go with the kite in the water! From that first session dragging through the water with a kite, I was very curious to try more and more!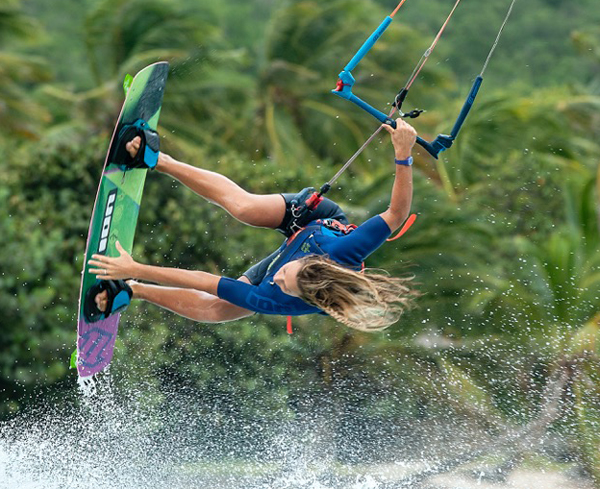 Could you tell us about your epic kitesurf from Ireland to Wales and the charity you raised money for?
As I'm from Wales, and used to live in Ireland, I have a strong connection and love for both places, especially the sea, and I always day dreamed about Windsurfing from Ireland back to Wales, on a stormy, windy day.
When I started kitesurfing I decided to make this day dream come true, so instead of focusing so much on being competitive, I decided to do something for a cause, a long distance kitesurf crossing with a meaning, which is why I chose to raise money for a Welsh charity. The Charity is called Ty – Hafan and its one of the UK's leading paediatric care charities, and offers care to life limited children, and support for their families throughout Wales.
What have your biggest achievements in kitesurfing been and are you currently training for any competitions?
Claiming 3 Kitesurf world titles in the waves was a great achievement for me, as well as winning the Master of the Ocean title, not only in the women's category, but also the men's. The Master of the Ocean is a competition where some of the best riders in surf, windsurf and kitesurf world gather to compete for an overall title/result.
I'm currently taking time off from competing to focus on running and expanding my KJ Experience Kitesurf and Yoga courses and kite safari's in the Sahara, Dakhla and other special kite locations worldwide.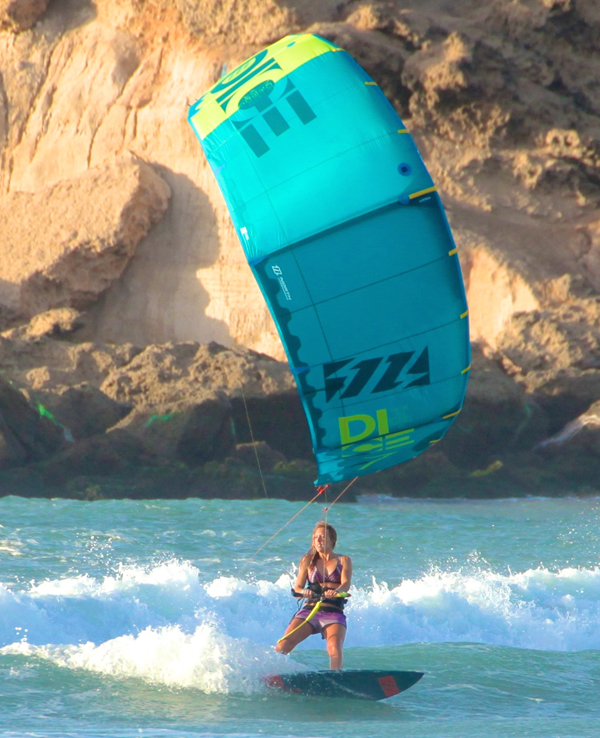 What inspired the challenge of the kitesurf cross of 140 miles from the Canaries to the Western Sahara, Morocco?
Long distance journeys kitesurfing, paddling, running, walking, whatever it is, inspires me, and so many people. I've spent a lot of time in Lanzarote and the Canaries on holiday with my parents, windsurfing, surfing and kiting, and then started doing sailing trips from Lanzarote to the little village of Tarfaya in the Western Sahara on a friend's boat, and this is what gave me the idea. We started to bond and create friendships with the local Saharan people of Tarfaya, sharing our passions of windsurfing, surfing and knowledge of the ocean, then one day I decided I wanted to kitesurf over to the little village of Tarfaya, from Lanzarote. 
Two continents so close, the Canary Islands and the Western Sahara, Morocco, yet so disconnected in terms of cultures, nations, and the freedom of travel for Moroccans /Saharans. I wanted to connect the two places I felt a great connection to, bringing them closer through kitesurfing, my experiences and the media. I also wanted to raise money for a cause/charity in the Sahara that had an impact on me. I raised money for a small charity that supports and aids disabled people in the area, and we also donated and took over windsurf equipment and surfboards to form a little club for the local people who wanted to try these sports.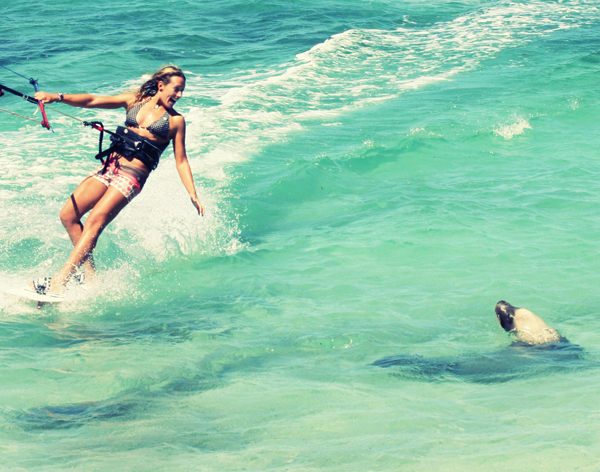 The kitesurf crossing from Lanzarote to Tarfaya was 140 miles and took over nine hours non-stop, without any contact with the support boat that followed. The first half of the journey was up wind and challenging on the legs and mentally, then the wind changed unpredictably in my favour and I was able to kitesurf more downwind and all the way into the village of Tarfaya where the local people were awaiting my arrival, after rumours of a blond girl arriving by kite, from the Canary Islands!
What other places in the world has kitesurfing taken you and what have been some of your most memorable experiences?
I've been to so many countries since I started surfing, windsurfing and kitesurfing, doing competitions, photoshoots, or just free riding and exploring.
Some of my most memorable trips have been to Madagascar, Yemen, Bangladesh, Ireland, and Dakhla where I'm now based. The best experiences have been through incredible and special interactions with nature, wildlife, people, which is the main reason behind why I love to kitesurf and travel. It's not about the result, manoeuvre, or final destination, its about the experiences and what we learn along the way. It's not about reaching or achieving, or where we go, it's about who we are after the experiences and rides.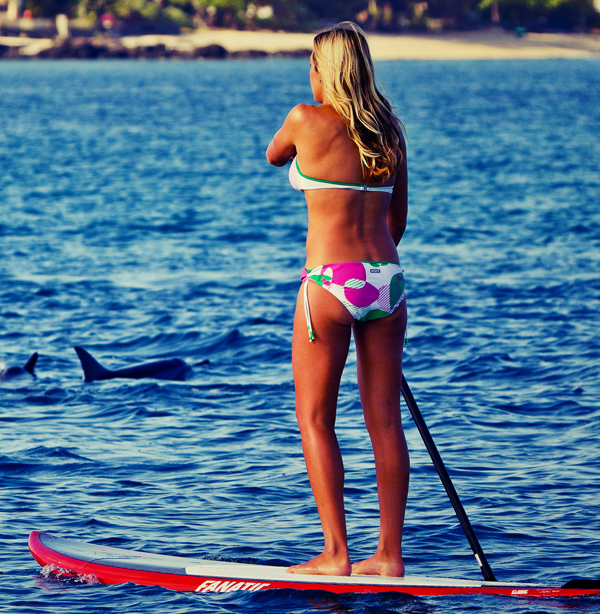 What is it that draws you to the sea and what other water sports do you enjoy?
The sea, salt water, wind and waves are the best cure for anything, and it's what brings me back to my true nature. It's the smell, feeling, power and special connection that always pulls me into the sea! Depending on the wind and wave conditions, and what mood I'm in, I choose my kite, board or sail. If there is no wind I surf or SUP paddle. If there is no wind and waves I free-dive, snorkel or spear fish.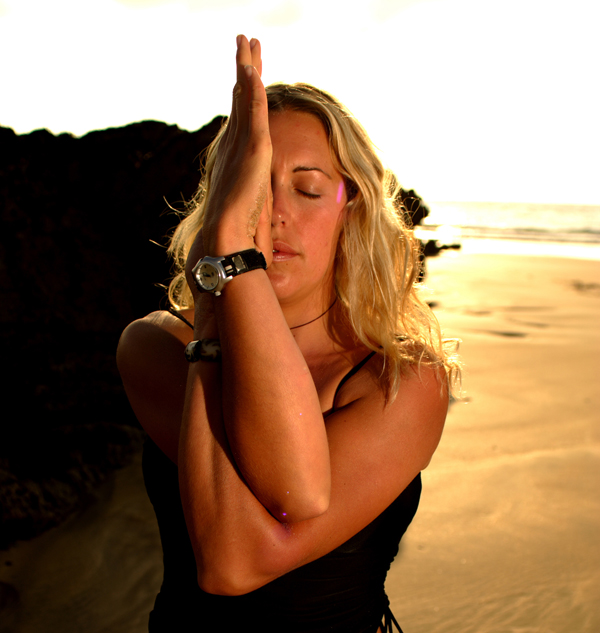 How do you spend your time when you're not competing or training?
I'm really busy running my KJ Experience Kitesurf, SUP and Yoga courses, lessons and trips in between my own training and trips. I love helping others experience the ocean, elements and yoga the way I have, so I created my own kitesurf, surf and yoga courses and coaching called The KJ Experience. Teaching and coaching beginners through to advanced kitesurfers is one of my biggest passions, as well running regular yoga sessions at my current base in Dakhla, Ocean Vagabond. I'm also trying to keep up with my roles and life as a Pro Kitesurfer, writing technique and travel articles for the media, and I'll began my own podcasts and book soon.
Protecting the ocean, wildlife and nature is also something I give time and energy to. The ocean and nature is my source of pleasure, happiness and work and so I try to give back, and help it in the little ways I can.
To find out more about Kirsty and her courses and events visit www.kirstyjones.com.