MICKEY Sarraille's life has been nothing short of incredible. An amputee since 17, a 30-year hang glider pilot, big wave bodyboarder, skier, author, kayak adventurer, world traveller, retired welder, he's tried it all, and in this up-close-and-personal interview his humility and likeability never seize to amaze. 
Mickey's book, The Big Hawai Adventre, is the true story of best friends who come face to face with whales, dolphins and turtles, dodging wind and waves on the 16-day kayak adventure around the Big Island of Hawaii, never before attempted.
Here he gives us some insight into his life and what readers can expect from the book.
Could you tell us a bit about yourself and how you got involved in extreme sports?
I lost my leg in a hit and run motorcycle accident at 17 years old, hit by a drunk driver. My life changed that night forever. My left leg was severed in the accident at the hip, making it difficult to use a prosthesis. I decided one day that it was just easier to use crutches, so I tossed the clumsy fake leg to the side.
It took a year before I was able to do anything, just balancing was a challenge. I started bodyboarding soon after and became good at it, taking a trip to Hawaii for four months. Surfing Pipeline, Sunset Beach and some other large waves on the Big Island. 
My best friend played a big part in getting me involved in extreme sports. Kelly Harrison, son of surfing legend Lorrin Whitey Harrison, was my roommate and best friend, we would challenge each other to take off on the biggest waves. Sure I took some beatings, but the pay-off was big when I'd get spat out of giant tubes.
Your disability obviously makes your achievement even more remarkable. What has inspired you and given you the motivation to succeed despite the difficulties you must face?
The disability is just a small inconvenience and I've found that with persistence I could do just about anything I wanted. I'm inspired by my friends, who push my limits and keep me performing at a high level. I try to just do what I do and not get a big head. The challenge is what keeps me motivated, every day is different. I have to adapt my methods since I have one leg, so that alone is one challenge. 

What can readers expect from  Big Hawaii Kayak Adventure  and what was it like completing the 300-mile paddle which had never been completed before?
Big Hawaii Kayak Adventure was just something I wanted to do for fun. We didn't know that it hadn't been done before. I'd never even kayaked before, and basically learned on the way. It was a gruelling paddle, most days averaging 20 miles in sometimes horrible conditions. Turns out we are the first to complete the 300-mile trip, and still are the only ones.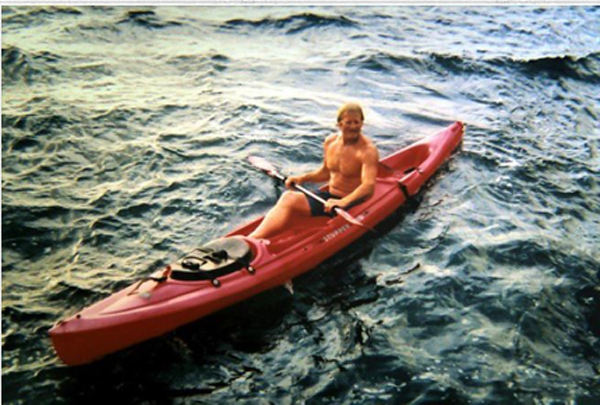 Readers of my book can expect to be 'along for the ride'. I kept a detailed log ever day of the trip and used it when writing the story. The experiences we had along the way were life-changing, interacting with whales and nature at its wildest. Not your everyday kayak adventure!


You are also an experienced hang glider. Could you give us a bit more information about your time spent in the air?
I started hang gliding in 1982 and was hooked. To fly off the mountain was a feeling of speed and freedom without compare and to be able to toss those crutches to the side and take to the air became my new addiction. I did it every day that was flyable. I started competing at it and won several of the small competitions.
I started competing at cross country in about 1990 usually finishing about the middle of the pack, with some second places, and a sixth place in a major comp in Chelan Washington.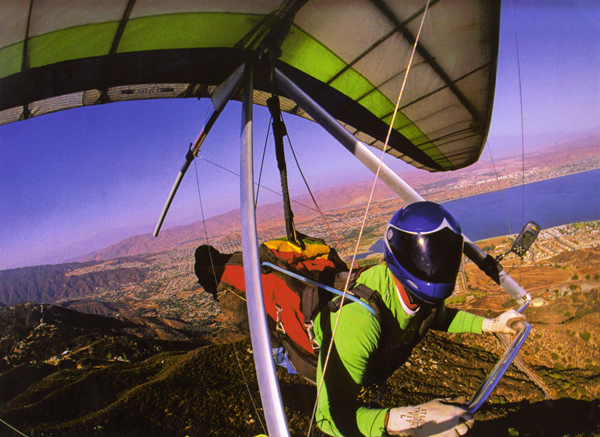 About eight years I travelled to do the Chelan meet, and King Mountain Idaho, Mingus Mountain in Arizona and Slide in Nevada. My confidence was soaring. My thoughts were of flying, looking towards the sky, that's where I wanted to be. My longest flight is 140 miles, six hours, 18,000 ft from Lonepine Ca. to Mina Nevada.
I've done skydiving, sailplanes, ultralights, bungee jumping,skiing, airplanes, mountainbiking, kayaking etc. Just about everything but hang gliding still keeps my interest after 32 years and 4,000 hours in the air.

Have you set yourself any goals for the near future?
I hope to write a couple of more books, one of my life with the E-Team Hanggliding Club. Maybe another just to inspire others to push the limits, and challenge themselves everyday like I have tried to do. It has paid off. I don't think I would trade my life for anyone else's. Life is good!