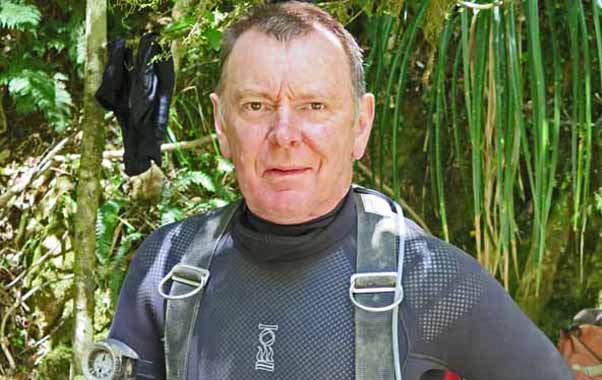 MARTYN FARR was introduced to caving by his father as a child in Wales and by the time he went to university had started to cave dive. Within ten years he had taken a world record for underwater cave penetration in the Bahamas.
Farr went on to become renowned around the world for his pursuits in the sport and especially for his prowess with a camera and video while underwater. He has discovered numerous caves around the world and in the UK is especially know for his explorations of Wookey Hole.
An established author on the subject of cave diving Farr spoke to us on what readers can expect from his books as well as the highlights of his careers underwater. 
When did you first get involved in caving and cave diving and what or who influenced you to get take up the sports?
I first started caving at the age of ten, when my father introduced me to the sport. He was an established caver here in South Wales. I started to cave dive at the age of 19 when I went to university and learned to dive. In 1970 there were very few cave divers in the UK and probing the many flooded tunnels underground seemed to be the easiest way of pushing back the frontiers.
Where did you grow up and what did the area offer you in terms of being able to pursue your passions in the water?
I grew up near Crickhowell, in South Powys. This is a very rural area and when I was young I realised that there was still a lot of original exploration to be undertaken nearby. I guess I was a fairly adventurous individual and always keen to embark upon a challenge. The caves, less than five miles from home, fulfilled that desire. Over the years many many miles of cave have been found here.
By 1981 you had taken a world record for underwater cave penetration in the Bahamas. Could you give us a bit more information about this record and how did it feel taking it?
Cave diving had been a very important exploratory tool in the '70s, complementing the climbing skills so often necessary underground. In the ten  years of UK-based diving activity I had travelled the length and breadth of the UK and Ireland routinely finding new caves and extending many other sites. The Bahamas was just a natural extension to the exploratory activity. 
We Brits were not renowned for our cave diving activities overseas but I think all that was to change after our two successful expeditions to Andros Island in 1981 and 1982. Both expeditions were very much a big team effort and as is so often the case these record breaking achievements could not be made without tremendous support from friends. 
The Bahamas effectively triggered the love of travel and thereafter many more trips were to follow to many other exciting destinations. In 1984 for example I was to make the very first cave dive in Borneo, discovering a major extension to Clearwater Cave, today one of the longest caves in the world. 
The following year was to mark the very first cave dive using scuba equipment in China and again we achieved notable success.
In the UK you are well know for your exploration of Wookey Hole. What did this involve and what else have you achieved in this country?
Wookey Hole is only one and a half hours drive from my home in South Wales so the lure of exploration there was always attractive. In 1976 Colin Edmunds and I were to reach Chamber 25, the last air chamber in the cave system. The following year a major expedition was set up and, supported by a strong team of other divers, I established a British cave diving depth record of 45 metres in the final sump.
In 1982, following our success in the Bahamas, I continued the exploration of Wookey beyond Chamber 25. Supported on this occasion by my friends Rob Palmer and Rob Parker I was able to reach 60 metres depth, another UK record. 
Perhaps the most notable exploration achieved in the UK was to be that in my home area, close to Crickhowell. Here, in 1986, I was to make the first journey through Llangattock Mountain, from Daren Cilau Cave to the cave resurgence in the Clydach Gorge several miles distant. At the time this was to mark the longest and the deepest caving through trip in the British Isles.
You have made many more expeditions worldwide. What have some of the highlights been?
I guess I have been very lucky and privileged to dive in the places I have. We spent a month in Japan in 1993 for example and found kilometres of new passages there.
Other trips have been undertaken to Brazil, Mexico, the US, Turkey, Iran, Russia, Australia and most recently a number of very successful expeditions have been mounted in New Zealand. In each of the last three years I have been fortunate to discover a mile of virgin cave on South Island and, in the process, some of the most beautifully decorated caverns on earth.
What can readers expect from your books on cave diving and which book would you recommend to someone interested in giving the sport a go?
Caving has always been the true passion in my life. To continue in the field it has been necessary to become something of an ambassador for the sport. And to that end writing about the activities is crucially important. 
The first major publication was The Darkness Beckons back in 1980. This charts the history and development of cave diving worldwide. The book was to become globally acclaimed and went to a second edition in 1991. I am currently preparing a third edition at the moment and this will appear early in 2016. So much has happened in the sport of cave diving over the years. This book will absolutely amaze any reader! 
In the meantime I would refer readers to my website www.farrworld.co.uk where they will find quite a few other publications. Diving In Darkness for example is a global guide to cave diving; Classic Darksite Diving is a 'where to go' lavishly illustrated book European in coverage. For straightforward adventure people will be amazed at Darkworld, essentially an exciting book on caving. And there are others, all outlined on the website.
You are known around the world for your photography and video skills when diving. How do you manage to create such sought after footage and pictures while underwater?
Photography underground is a challenging pursuit, but underwater photography in a cave is extremely difficult. I was the first to establish the techniques here in the UK and it is true to say that not many others have followed suit! 
It's extremely frustrating when things don't work out.
You need exceptional equipment, good visibility, a very cooperative team and a rock solid plan. So, so many things can go wrong… I guess its not surprising that you wont find too many images taken underwater in caves or mines here in the UK.
Video work is much easier, especially with small units like the GoPro.
With patience and determination one can obtain some interesting footage on solo operations. My trip to New Zealand in January 2014 was a case in point when some fabulous material was obtained on a solo mission into Spittal Springs. Some nine hours were spent underground, five of them working completely alone in this spectacularly decorated cavern which I called Avalon.
How are you currently spending your time and what exciting plans do you have for the future?
Currently I'm working virtually full time writing this next book – The Darkness Beckons – which promised to be quite incredible. I think I can say that I have the support of all the leading cave divers worldwide and it will be a lavish publication well worth waiting for. I also run cave diving training courses, both here in Wales but also in the south of France. There is still plenty of exploration in the offing and I'll certainly be off to Ireland and New Zealand again this year.