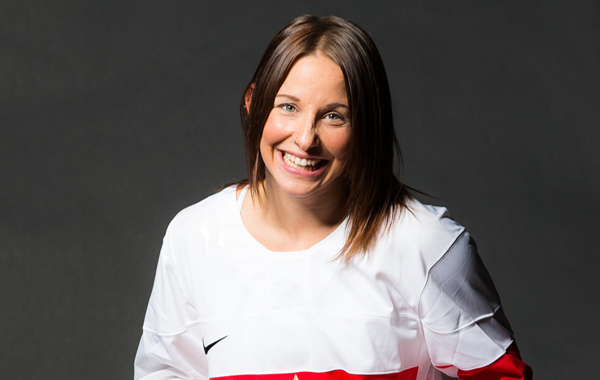 CASSIE HAWRYSH, a journalism graduate and former varsity volleyball and track and field athlete, dedicates her days to training in the sport of skeleton. Her successes to date have included two World Cup fourth place medals and one World Cup team gold. She has also won Canadian Championships and been ranked eighth in the world.
She was brave enough to answer our quick-fire questions so read on to find out more about the fun-loving skeleton racer.
What do you love most about your skeleton career?
Pushing the edge every single day – and – learning to fly!
What has been your highlight in your career to date?
Winning the Canadian Championship Title in the year of the 2014 Winter Olympics (Canada has always boasted some of the best sliders in the world!).
If you could accomplish one thing in skeleton or outside the sport in the next five years what would that be?
In sport: help advocate, create and foster a stronger, more unified voice for all athletes.
Out of sport: master 'how to fold a fitted sheet'. Seriously, I'm starting to think you have to be some sort of wizard to not just crumple it up and throw it in the closet.
What's your favourite movie?
The jury is still out on this one …
And actor?
Actual acting: Marlon Brando.
Who I'd want to be rescued by in an action film? Jason Statham.
And musician/band?
Nostalgic answer: The Crash Test Dummies.
Ever-lasting rock-out power: The Rolling Stones.
Singing along with in my car: absolutely everything, literally!
If you could have the opportunity to give another sport a go on a global level what would that sport be?
Surfing.
Where's your favourite place to relax?
Under a giant duvet with a mountain of soft pillows.
What's your best characteristic?
My witty sense of humour.  (… and obviously humble-nature.)
If you could order any three-course meal what would that meal be?
1) Caprese Salad; 2) Steak (done med-rare) and (in season) cooked veggies; 3) freshly baked cookies with ice cream.
If you had to get stuck in an elevator with someone who would that person be?
Jimmy Fallon – I just know we'd be insta-besties.
What are you most afraid of?
Wasps – why are they always SO angry?
When are you happiest?
Hugs.
What drives you to keep pushing for success?
The tiny voice that always whispers, "Are you sure that's that all you've got?"
Which sports person do you most aspire to?
Looking back and looking ahead, there is an ever growing number of strong, talented, tough, truly incredible female athletes – some I only know of and some I know personally, in both cases I draw inspiration from every single one.