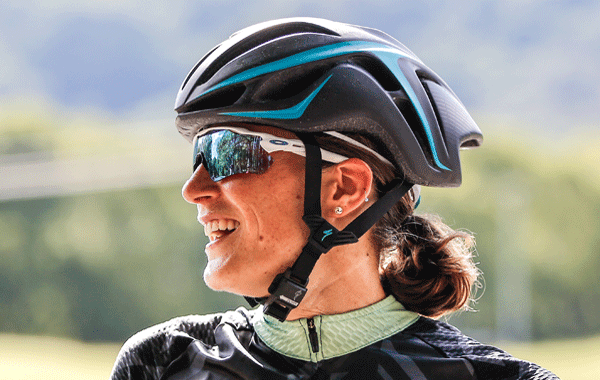 Katie Zaferes is a professional triathlete who is originally from Hampstead, Maryland. photo Tommy Zaferes
KATIE ZAFERES competed in her firs triathlon after high school but it wasn't until after university when she really caught the bug for the sport. She has gone on to excel at the sport and today lives in California and competes as a professional triathlete.
Here Katie talks to us about some of her biggest triathlon triumphs including qualifying for and competing in the Rio Olympics and winning the WTS in Hamburg. Read on to find out from whom and what she draws her inspiration and hear about her triathlon plans for the year ahead and beyond.
When did you start out in triathlon and at what age did you compete in one?
In 2007 after graduating from highschool I did my first one with my dad. It was on Father's Day and it was a goal of his to complete a triathlon and I guess I was the only daughter willing to do it with him. Over the next few years that would be my annual triathlon with him.
When I signed for Syracuse University for running I committed myself to running for the next four years and it wasn't until after graduating that I started taking triathlon a bit more seriously/identifying myself as a triathlete. 
What have been your biggest triathlon successes to date?
Qualifying for the Olympics was for sure one of my biggest successes, but also winning WTS Hamburg in 2016. In a season that started out with me having some poor races I was so excited to race in Hamburg, get my first WTS win but most importantly race like me! 
Who have been your biggest supporters and mentors along the way?
My biggest supporters have definitely been my family, friends, teammates and coach. However, the one who takes the cake is my husband, Tommy. He plays so many different roles for me and is willing to do anything in order to keep me happy, healthy and help me reach my goals. He is the one who there no matter whether it's a good day, bad day or somewhere in between. I honestly have no idea how I got so lucky to have found him (in Tiszaújváros, Hungary of all places!). I know I would not be where I am today without him by my side every step of the way. 
How does it feel when you're representing your country in the sport?
I feel a lot of pride in representing the USA. I've finished on an all-American podium three times in my career and emotion welled up in my chest when our national anthem played for all three of us (and when they raised the three American flags). Being a professional athlete can sometimes be a pretty selfish profession, however when you're representing the US and racing in Stars and Stripes you realize you're competing for something bigger than yourself. 
Tell us about your experience of the Olympics in 2016?
The Olympics had a pretty huge mix of emotions for me. I was so honored to be there and surrounded by the best in the world! I also learned hard lessons in what it truly means to be at the Olympics and how to prepare myself both mentally and physically.
Performance wise I was super disappointed with my race. I finished the race and the Olympic experience ready to figure out how to be better physically and mentally. It made me hungry to get back to work in order to try and qualify for 2020 and turns my weaknesses into strengths. It also made me realize that I had kind of shut down emotionally to try and avoid the stress of qualifying. I feel like I went through last year with a bit of a cloud over my head trying to not be nervous. Unfortunately in doing that I shut out everything and though I was having good workouts there was no spark or light in me. All things I didn't really notice until I reflected after the fact.
I also realized I can't think of triathlon as work, it's important for me to enjoy all the experiences and the opportunity to challenge myself to the extent that might mean failure sometimes. My favorite part of the Olympics was all the support that I received from all different communities that I have been a part of throughout my life. It was awesome getting to reconnect with people who I had not spoken to in a long time and also get to create new relationships with others! I also really enjoyed attending the closing ceremonies where it was so much fun being mixed in with all the athletes from different sports and countries! 
In which discipline of triathlon do you excel at and in which do you have to work the hardest?
It's pretty cool because I feel like I now really identify as a triathlete. Depending on the day depends on which of the three disciplines I am strongest at. I feel like I've had to work the hardest on the bike. I'm strong, but I've had to gain confidence on the skills portions and being comfortable on the technical sections, descents and riding with others. 
What events and races are you currently training for and what other projects and plans do you have for the year ahead and beyond?
Currently I am mainly focusing on the World Triathlon Series. In the future I would like to dabble in some 70.3 races, but I want to make sure whenever I make my debut I'm fully prepared. I'm still hoping to sneak one in at the end of the season but we shall see. I'm also interested in racing some of the new series and race formats at the end of the year.