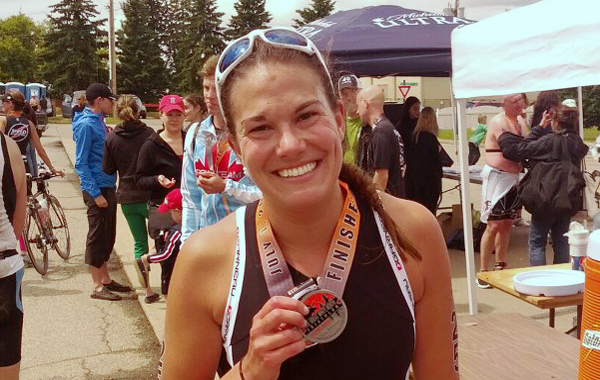 AMY COPPENS has been involved in sport since a young age, but in recent years caught the 'triathlon bug' after she was inspired by her brother's death. She is currently ranked fifth in Canada in her age group for half Ironman and 11th in the world.
Dedicated to helping people push themselves and find success in running and the sport, Amy is also a personal trainer who offers advice and training tips through her website www.trainstronglivestrong.com.
She took the time to talk to us about her experiences in triathlon to date, what inspires her to keep training hard and her ambitions for the future.
Could you tell us where your inspiration to train came from and had you always been a sporty person?
Since a young age I have always been active – dance, soccer, football, volleyball, you name it I played it.  I focused on soccer for most of my adolescence and into university until a knee injury put that dream on hold. I began running while I was living in Victoria, BC and set myself the goal of running a half-marathon. 
In March of 2010 my younger brother Rhys died at 20 years old – an amazing young man and my best friend was taken from the world and I felt pretty lost at first. 
Back in Edmonton running became my therapy for dealing with my grief. It was suggested to me by a good friend and training partner, as I was making the final move back to Edmonton, that we train for Ironman and compete in memory of Rhys. I thought this was a great idea although admittedly at the time not knowing what I was getting myself into. 
Rhys was my driving force behind my training from day one. I would literally feel him with me on long climbs up a hill, or on hard swim during workout days. My family and friends were an amazing rallying force as well. Training became my outlet and my way to honour an amazing person and athlete gone too soon. I wear a bracelet with his picture on it at every race and his smile gives me strength.

When did you take part in your first triathlon and what successes have you had in the sport?
My first triathlon was in July 2012 when I ran the Great White North Half Ironman which I finished in six hours and 20 minutes. Since then I have competed in six half Ironmans and one Ironman. 
Last year I focused on the half Ironman distance and qualified for the 70.3 World Championships. I am currently ranked fifth in Canada in my age group for that distance, and 11th in the World.
What encouragement would you give to someone thinking of training for a triathlon for the first time?
Don't let your head get in the way of your heart. Sometimes the mental battle of fitting in all of your workouts and the anxiety of the task at hand, the nerves – all of it can seem like too much. You will wonder what the heck you are doing and you will doubt yourself more than once. Don't let that stop you, always come back to why you started and take it a day at a time – listen to your heart and know that you WILL get there.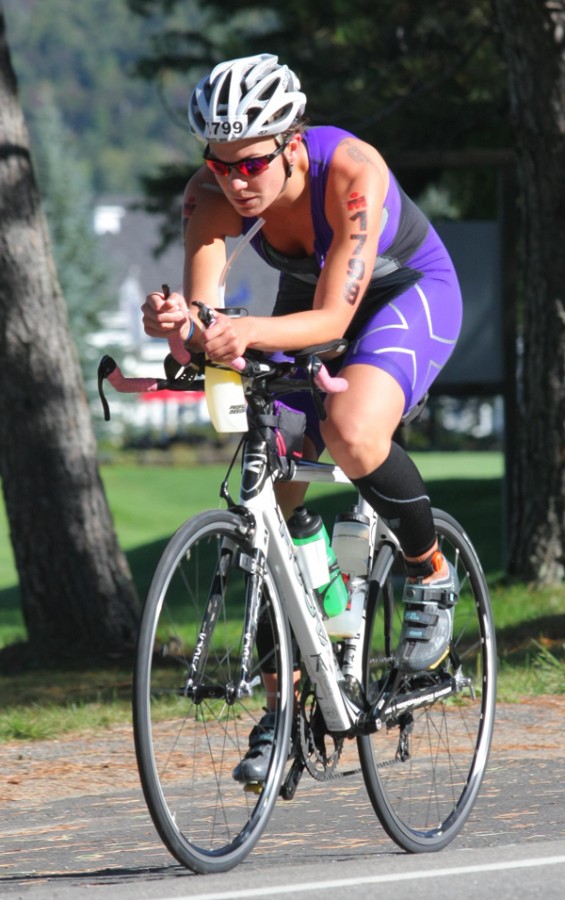 Could you tell us more about your own training and how much time do you dedicate to it each day?
My training since day one has been for the most part all on my own and on a sort of figure it out as you go along process. Not because I haven't wanted help, but mostly because my schedule as a personal trainer means that when most people are working out/training or clubs are meeting, I am working. The bulk of my training is done when I can fit it in to my schedule – usually during the day. 
Ironman training and even half Ironman training are pretty close in a weekly hour commitment, usually two to three hours a day. The weekend hours are where they differ the most, this year my focus is Ironman Canada so my weekend workouts are usually six to seven hours on a Saturday and two to three hours on a Sunday.
When did you get into personal training and what is the message you try to present to people who come to you for help?
I got into personal training in 2013 with the realisation that my passion for sport, health and wellness and for coaching could all come together in one amazing job! I have seen in my own experience how maintaining a healthy lifestyle can really enrich your life all around and I love sharing this knowledge with others. 
When working with clients I like to keep things fun and also push them to new levels that they maybe had not considered, we always start with small goals and I find keeping things focused and finding what is each person's driving force really helps me to create programmes that will help them see success and then some!

Do you have any exciting plans for the rest of 2015 and beyond?
I have my second Ironman this year in July – I am tackling Ironman Canada again and looking forward to being on that course again and seeing how far I have come since my first.
I hope to qualify again next year for the 70.3 World Championships and take on my third Ironman (location TBD).
To continue my work on DAREGIRL (www.daregirlyyc.com) and see the programme succeed this summer and to expand next year into schools and beyond would be amazing.
Kona by 2017 is my BHAG (Big Hairy Audacious Goal) and the Boston Marathon by 2016.