MICHELLE SAVAGE is a marathon runner who has competed in a 50-mile race as well as other long-distance challenges – she is currently training for 100-mile race,
In this exclusive interview she talks to us about where her passion for running comes from and how she sees the positive effect of her training and racing on her ability to be a parent.
So read on to find out more about this inspirational mom who you can also follow at @runnermommy2008.
Were you always a sporty person when you were younger and if so what were some of your achievements?
No not really, I rowed crew in college and really enjoyed it. That was the first organised sport I did.
When did you get a real passion for long-distance running and how hard have you had to train to get to the level you're at today?
My passion for long distance running was right after I ran my first marathon. Which, this will make no sense, I hated for the full distance. I thought there has to be something better. So I signed up for a 50-miler. And had a BLAST! I mean there is no better feeling than running from dawn until dark and crossing that finish knowing you just ran 50 miles!
I like to think I'm always in training mode. Always trying to better myself. Achieve new challenges. When training for my 100-miler I think is when my training really took a turn. I work daily on my training, not just running, but cross training as well. Sometimes training for this 100 feels like a full time job!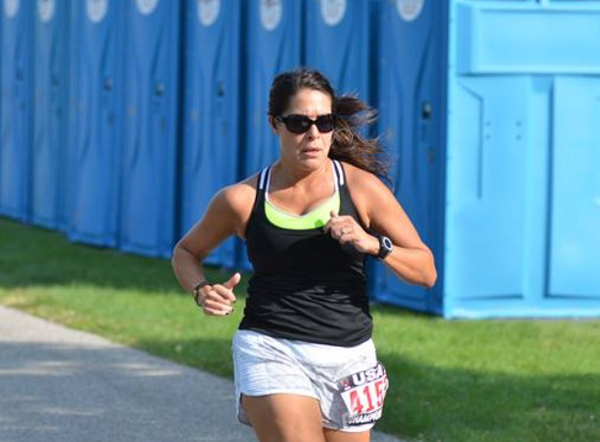 What does the area you live in offer in terms of trails and areas which you can run?
I'm really kind of out in the country. A lot of corn fields and pavement. I have to drive about 30 minutes to get to a trail. I wish there were more trails around me. So sadly, I don't get to run trails as often as I'd like to.
What have been some of your biggest achievements in running and what are some of the challenges you've set yourself for the future?
Some of my big achievements in running have been completing a 50k and winning first place in my age group, a 50-mile trail run and most recently a 24-hour endurance run in which I completed 75.7 miles.
As stated previously, I am training for a 100 miler. But this is not my first attempt at a 100. I consider the attempt of my first 100 an achievement. I struggled with the DNF for a really long time. But looking back and seeing what it took to get me to my first 100, I realise it wasn't a failure but a lesson in disguise. That lesson being – I gave it all I had. It wasn't my race. How many can say they even signed up for a 100-mile race and actually made it to the start line?
Currently my challenge is to complete Tunnel Hill 100 and be holding that buckle. I'd like to do Pike's Peak in the future and Badwater 135 is on my radar.
Are you involved in any other sports and if so what are they?
No, I run and run and run! I lift weights and do core workouts along with my running but nothing competitive.

You Tweet at @runnermommy2008. How does if feel to be an inspiration to others moms and how important is it to you to be able to connect with like-minded people over social media?
It's funny, I'm told that I inspire others but never really think of myself as an inspiration. I just really love to run and want to be as healthy as I can be. I want my son to have a good role model and believe that anything he puts his mind to he can achieve!
I enjoy connecting with like-minded people because it's nice to know that others have similar struggles and joys. Parenthood can be demanding. And being able to vent or make jokes is a stress reliever. Being able to share your good runs with the bad ones makes you realise everybody is human.
What is it about running that continues to keep you motivated and how important has the sport been in helping you become the person you are today?
New challenges keep me motivated! I'm always looking for the "is she really doing that?" responses.  
There's always room for improvement and learning. Running plays such a huge part in my life – I would be lost if I couldn't run. It makes me a better mom in that I have time for me. It's hard when you have a family and everybody needs you. Running is my little escape from all of that. Time for me to just clear my mind and reset.
Running has also given me confidence. After I had my son I gained significant weight and was depressed. I knew I didn't want to live like that. So I signed up for a marathon. Got started on training and here I am today. Running anything from 13.1 to 75 miles! It's just a fantastic feeling to go out, do your best and feel accomplished!