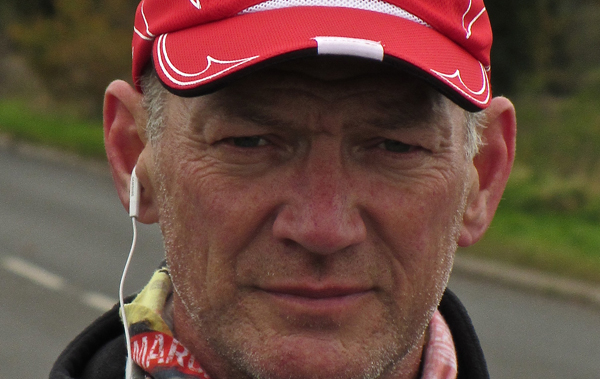 RETIRED soldier Martyn Bird, 57, is dedicating his last gruelling ultra marathon to raise much needed funds for homeless ex service men and women in Bristol.
A former Major with the Royal Military Police, Martyn has taken part in some of the most gruelling races across the globe. In addition to 'regular' marathons he's completed 150-mile races across both the Atacama and Gobi deserts and ran 300 miles from Thiepval Memorial France to the National Memorial in Stafford. He has worked tirelessly to raise funds for numerous charities including Help for Heroes, Sports Relief, Cancer Research and the Poppy Appeal.
Running this last 163 miles race high in the Portuguese Mountains he's determined to raise the profile of the work of the Community Self Build Agency. The CSBA is a national organisation with projects throughout the UK. It works with veterans keen to get their lives back on track encouraging them to take pride in living in the homes that they are able to build themselves.
Could you give us some background on your work as a soldier and time as a Major of the Royal Military Police?
I joined as a Private Soldier in 1976 and worked my way through the ranks retiring as a Major in 2008.
During that time I have served in seven different operational theatres such as Northern Ireland, Bosnia, Kosovo, Beirut and the Democratic Republic of Congo. As well as time in England, Scotland and Germany.
Much of my career has been spent in the executive protection role providing protection for senior officers, government officials and diplomats. I consider myself very lucky to have had such a long and rewarding military service.
Could you tell us about some of the charity races you have already competed in and how you train and motivate yourself for such challenges?
This will be my fourth ultra. My first in 2007 was the Atacama Challenge, followed two years later by the Gobi March, both organised by Racing The Planet and both over a 150 mile-course.
The third was a solo event I organised myself in aid of the Royal British Legion. A 300-mile course from the Somme battlefield in France to the National Memorial Arboretum in Stafford. I had four military colleagues provide the support for the event and I completed in seven days.

You have raised money for charities including Help for Heroes, Sport Relief, Cancer Research and the Poppy Appeal. Could you give us some more information about the charities and what they mean to you?
Obviously the military charities are close to my heart and I have supported one of my best friends Phil Packer who was injured in Iraq when he supported H4H and Sport Relief.
I chose Cancer research because family members have been affected by the disease.
I know that all charities need funding and that we choose the ones closest to our hearts and that is what I have done when asking for sponsorship.
The Poppy Appeal made sense as it was coming up to 100 years and also because my Grandfather was wounded and evacuated on the first day of the Somme.
How much more motivation does it giving you having worked with and seen the devastating effects that war has on people who will benefit from the funds you raise and the charities that money will go to?
Many of my friends and colleagues have not been as lucky as I have to have gone through my military service with no lasting damage and there are so many that I feel we can help.
I spent a career going through a lot of arduous training so why wouldn't I put that to good use to help others.
Seeing what the Charity Self Build Agency is doing to give these guys back their identity, self esteem and helping them help themselves was all the motivation I needed to sign up and try to help.
Could you tell us more about your race in the Portuguese Mountains that takes place later this week and the work of Community Self Build Agency for which you will be donating the money raised to?
The race is 163 miles long over parts of the Serra Da Estrella range of mountains in NE Portugal. There are over 12,000 metres of ascent and 11,000 of descent. There are six daily stages including one long stage which is just over 70 kilometres.
It will be tough – slightly longer and with three times more elevation than Marathon Des Sables – and I am sure it will be a real test of mental and physical endurance.
For more info visit visit www.thecrossroadsportugal.com/#course
The Community Self Build Agency's motto is 'helping people to help themselves', this is no hand-out, people involved really need to get engaged with the project and put a great deal of their own time and effort in to make sure they get the rewards at the end. They really do make a difference by giving people the opportunity to learn a trade, get back to work and gain independence. When I heard that they provided help for homeless ex service personnel I had to get involved.
How can people get involved with and donate to the charity?
Supporting me and the charity is simple, just visit my justgiving page at: www.justgiving.com/Communityselfbuild
Do you have any plans for more challenges to raise money in the future and if so what are they?
I am getting a little old and a little worn out and I am sure my friends are tired of me asking them to dig deep, so although I will remain active as long as my body is willing, my future endeavours may be just for fun.