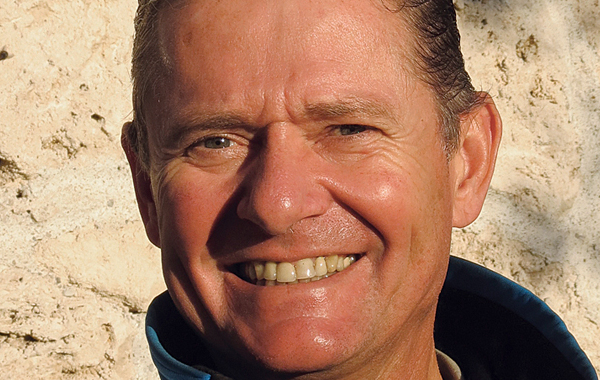 FOR TEN years Martens flew competitively in the German league, the Nationals and in the World Cup. He bagged several national and international records during this time, and some of them still stand. His most recent German record was a 280km flight-to-goal in 2011.
Burkhard's passion is cross-country flying, and after flying in the German XC League for 20 years he finally managed to win the Sports Class in 2004 and the Open Class in 2008. This success was followed by the publication of the book Thermal Flying in German in 2005. This book has since been translated into nine languages.
What was the reason for you taking up paragliding and was it something you had aspired to do for a long time?
It was a bit of luck really. A friend wanted to do a beginners' course at the famous 'Wasserkuppe' near Frankfurt with his wife. But she said no and so he asked me. My dream was to do a hang glider course but I said, okay, I think paragliding is also something that could be of interest. When I got into air, only two meters, I was overwhelmed. I knew instantly: that's it – that is what I want to do. But that I had no idea I would later become famous in the sport.
In your early working life as an environmental engineer you were a very passionate pilot. Was flying something you had always wanted to do and how important was it in allowing your passion for paragliding to flourish?
Flying was fun. That was it at the beginning, nothing more. But after two years flying with my friends, I started to think 'I'm not so bad at this' so decided to try to participate at the XCountry Cup and at small competitions.
In 1994 you started work for paraglider manufacturers. What did this involve and what was your role in the industry?
I was unhappy with my job as an environmental engineer. I quit the job and was flying for the whole summer – every day that it was possible. But in the winter I was thinking, shit I need a job. I had a good contact with UP, and I was lucky. UP was starting to become a very strong company at this time and they needed somebody for the main distribution. So I got the Job and was very happy. All the other UP distributors in the world and, what was later very important, all the schools had been my resellers.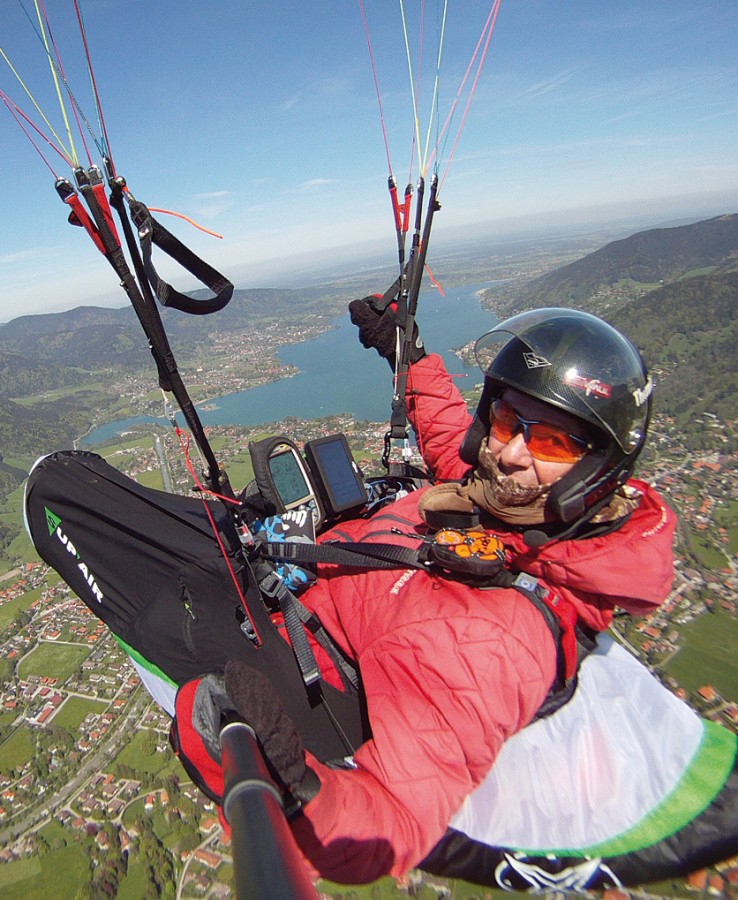 In your ten years in competition what were some of your greatest achievements and where in the world did the sport take you?
Once I was third in a Word Cup in France. I was travelling a lot in the world to World Cups, mostly in Europe, but also in Venezuela and some other countries. Later I had less time, so I participated only in the German League and the XC competitions. In the German League I took between third and tenth place every year. I was two times Bavarian champion, I won the Flatlands in Berlin and some other little competitions. But for me the most important was the first place in the XC-Cup in Germany. Meanwhile I was five times XC-Champion.
In your time running a paragliding school how did it feel being able to teach others how to take part in an activity that is obviously so close to your heart?
In the beginning it was a great fun and a pleasure to teach. I was happy when my students learned fast and all the important things they needed to know. I was proud when they became good pilots. I was running the school with a partner together and after some years the concord was not as perfect as it should have been. At this time I had written a lot of articles for magazines about thermal and cross-country flying. Some friends told me to put all these articles together and make a book out of them. So I sold my part of the school, was living from the money, and wrote Thermal Flying. This took more than a year.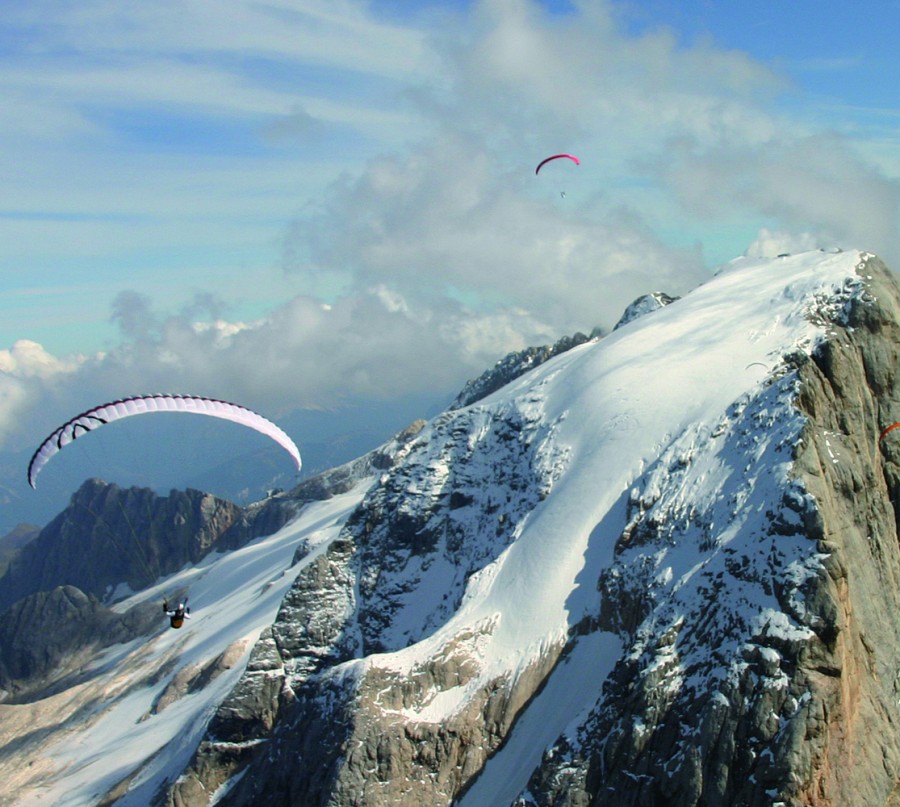 You are also an expert hang glider. Was this a natural progression from paragliding?
I am not a good hang glider pilot. I tried it, did my license and some flights. I wanted to know what the difference was. But I did not have enough time to learn it. I had the school, competitions and the XC-Cup. When did I have the time to fly the hang glider? So I stopped and sold my hang glider.
Your book Thermal Flying has been translated into nine languages. Was writing something you were always passionate about and what can readers expect from the book?
I was never good at the German language at school. But I love to share my knowledge. The thinking is easy. When I am dead, all my knowledge has gone from the world. I love to help others and so I wanted to give all what I knew to the people. I was writing the book in that way – I wanted to have a book when I had my paragliding licence. There was no book existing that was similar.
I think 95 per cent of people learn like me. They see a picture (very important) and want a clear and simple (also very important) explanation. So I tried to explain everything with a picture. This is the secret of the success of the book. And you can believe me, to explain only in simple words is not so easy. Things that I did not have a picture for I would draw or paint a picture for.
Readers can expect a lot of knowledge on how to become a better pilot and also learn about things they have never thought about before. It is not a book for learning the licence. There is very little about the material, navigation, the law and things that are not necessary to become a better pilot in practice. The book is about how to become a better pilot in the air.
You have gone on to publish several more books. Could you give us some more information about them and do you have any more in the pipeline?
My second book was Cross-Country Flying In Thermal Flying and the focus was on thermalling, weather, practice and so on. But for doing cross country there were a lot of topics left. Examples are: planning XC, XC-novices, XC-weather, speed and MacCready, tactics, best line flying, a special chapter about flatland flying and a lots more. My personal best is 397km in the flats. In this book there are also interviews from the world's best pilots and a worldwide flying site guide.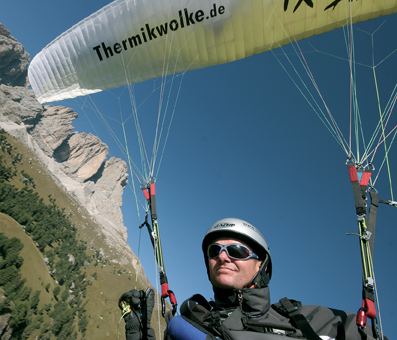 I have also produced a DVD, Site Guide To The Best Flying Sites In The Eastern Alps, this also exists in English. I have produced another two DVDs, only in German language, one about thermal and the other about cross country flying. So you see: that is all that I can write about. Then there has been a book about competition that Mads Syndergaard wrote – he was the translator of Thermal Flying. There are no more in the pipeline. Every few years I do a new edition of one of the books and I include everything new I have learned in the last few years. And there are always new things I learn. It is very funny. The learning never stops.
Your DVD guide to the best flying sites in the eastern Alps was released in 2010. Was it fun making the DVD and how do you hope it inspires others in your sport?
Yes doing the DVD was fun, at least the filming, not the cutting as that was hard work. It involved a lot of travelling through Europe together with my wife. We were flying a lot together and we had a good time. I hope the DVDs (three DVDs with four-and-a-half hours of content and 15 of the best sites) are an inspiration to pilots who will then go and have a look around and explore these nice flying sites.
What exciting plans do you have for the future?
I have participated now for more than 20 years in competitions and XC-Cups. I have broken a lot of records, but there is one record I have wanted to break for many years. This is the original FAI triangle. Pierre Bouilloux did 236km in 2003. This was extremely impressive. This is my next goal – to break this record.
To fly at the level I have for the past years is very exhausting. I would like to fly more for my own enjoyment and with my wife, explore new and impressive flying sites and fly only for fun. Not any longer for ten plus hours – three to five should be enough and then a landing beer would be nice. I think that is my ideal in the future.