HAVING been passionate about mountain biking for several years Tamsin Jones started riding motorcycles at the age of 24. The rest is history and the girl from Wales has gone on to become one of the UK's most successful and decorated riders. An ambassador for world travel clothing range Craghoppers  she has ridden the Welsh two-day enduro seven times and finished as top lady four times, beaten the Dakar Rally and raced at other events around the world.
In this exclusive interview we talk to Tamsin about how her passion began and how she was determined to learn everything about the sport and the mechanics of a bike to ensure she would be able to compete with the top riders around the world. Read on as she describes in detail her completion of the Dakar Rally and learn about her dedication to her work as an instructor and her role at the TRAX Motor Project charity.
When did your passion for motorcycles begin and at what age did you first start riding?
I started riding when I was 24, after 5 years of racing downhill Mountain bikes.  I was really reluctant at first as I thought they were smelly, expensive and the kit was horrible.  A friend came to pick me up one day and took me to look at an old Honda MTX 125, I had a go riding up and down a country lane and absolutely loved it.  We then went trailriding in Wales and I was hooked.
I spent many weekends in trailriding in Wales or around Wantage with a group of friends.  What I really liked about it was the age range of people involved – most of the sports I'd been into before, everyone was around the same age.  Motorcycle seemed to have a deep soul and I met so many passionate people whose parents and grandparents had ridden.
I started entering all sorts of events from reliability trials , where cars and bikes are tested off road through the night, to rallies and enduros.  My favourite was riding at night and I was really into the endurance side of it.  We once did a 32-hour trailride – started with 20 riders, finished with three and rode through seven river crossings at 2am
Who supported you in your desire to ride and who were the biggest influences on you when you were starting out?
My boyfriend at the time used to ride so I would go out with him and his mates, when we split up I made a decision that I still wanted to ride but I would need to learn to do all the mechanics myself. So I spent every Wednesday eve in a cold workshop in Oxford with my friend Lee teaching me to maintain and fix my bike. I literally knew nothing about mechanics and started from scratch, making loads of mistakes – rounding off nuts and bolts, pinching tubes when I tried to change tyres but I learnt to be a master in zipties and metal putty.
When we were trailriding and someone broke down or drowned the bike in a river crossing was when I learnt the most – bodge it jobs just to get the bike home.  It's amazing some of the things people came up with. I persevered with the mechanics and eventually became competent enough to do my own bike, when I went to do the Dakar I could strip and rebuild my bike, bar the engine.
My biggest influence was probably Patsy Quick, another British lady rider, who was competing in the Dakar at the time.  Also the film On Any Sunday  was a great influence, now that's what bike riding is to me.
When did you get your first chance to compete and how did it go? Can you tell us a bit about your early successes in competitions?
I used to get so nervous when I started racing that I'd fall off at the start line but once I got going I was pretty good due to my mountain bike experience. I started being first lady at a lot of events and beat girls that were way better than me when I started riding so that started to boost my confidence. The biggest thing for me when starting out was competing in the welsh two-day enduro – this was the main event of the enduro calendar in the UK and the entries sell out in 15 minutes.
The first time I competed I just about managed to finish without houring out – if you're an hour behind your time then you're disqualified.  I must have ridden the event about seven times now and the last four times been top lady rider.
Tell us about your experience of the the Dakar rally and how did it feel to beat it?
I remember where I was when I told a friend that I wanted to do the Dakar – and to be honest it took a long time for me to actually say it to someone as I knew once I'd said it I'd do it.  It's the Everest of bike riding.  From that moment it was 10 years before I was on the start-line.  I wanted to go with as much experience as I could have and know that riding wise I could finish.
So I set to work gaining as much experience as I could. I did desert rallies in Qatar, Morocco, Tunisia and rode in Mauritania and Mali, I did extreme enduros in the UK and Romania, long trailrides at the weekend many times coming back at about 11pm.  I built my own rally bike out of bits borrowed and donated. 
It was a hugely expensive race and I saved as much as I could and gained some amazing sponsors. I got as fit as I could, even riding a pushbike with my mate from John O'Groats to Lands End a couple of months before the race.  Eventually after a lot of hard work I was at the start line of the biggest motorcycle race in the world!
I was so nervous at the start line I wasn't sure I could even ride onto the podium.  On the first special test I fell off and the throttle stuck open. After fixing it, I started the next day nearly last in the bikes.
The third day was the real tester, many bikes went out of the rally as it was so hot and the sand was so soft that the bikes kept getting stuck and you'd spend ages trying to dig them out.  At one point I was so tired I couldn't pick the bike up so I just turned the fuel off, left it on the floor, drank all my emergency water, put my jacket over my head and went to sleep, only to be woken by the emergency helicopter landing asking me if I wanted to quit the rally.  It was about 2pm and I had 100s of kilometres to go. I asked for some more water and they helped pick my bike up and I carried on.
At 11pm I was stuck again, there was something wrong with the bike and it wouldn't pull up the sand dunes.  I thought it was over for me then and as I sat there waiting for the sweeper truck to pick me up a quad stopped and said there were loads of bikes stuck and I'd have a long wait.  That gave me a bit of a lift as I thought I was the only one left out there.
As I was going to have a long wait I thought I'd at least try to get the bike running right, so in the middle on the night, in the desert, on the side of the track with cars and trucks racing past and lots of dust, I set to take the carb off the bike to see if there was some sand blocking one of the jets.
This is not an easy job on a Yamaha as you have to take the whole backend off the bike, but I had a lot of time on my hands. It took about an hour to get to the carb and as I took it off three French amigos turned up and told me my race was over and they would push me to the check point about a mile away – what I only had a mile and I was behind the last sand dune before the check! that gave me another boost and I told them I knew the race wasn't over until the sweeper truck caught me up so they agreed to push me up the sanddune once I had put the bike together.
It still wasn't running right but I got to the check point and eventually got to the end – another three checkpoints away, with the help of two Dutch truck drivers who took pity on me.  At 3am, my bike and I limped to the finish line only to start at 5am the following morning.  After that it was just survival for me. I was at the back of the bikes which meant the cars and trucks caught me up and around midday and if I was still in the sanddune sections it was terrifying.
I can't really remember the second week apart from being totally exhausted, dehydrated and terrified everyday that I was going to get hit by a car or truck.  At the back of the bikes you really do see the carnage of crashed bikes, cars etc and it looks like a war zone. I had to finish the race as I never wanted to have to do it again.
How did your record on Everest come about and how did it feel when you completed that ride?
My boyfriend Craig and I were planning a trip to Nepal and it grew from there, we were just going to go on a nice break and then we had an idea that we'd ride to Everest Base Camp in Tibet and the idea just grew and grew.  To be honest we were totally under prepared, the bikes we hired in Tibet were rubbish and not what they told us we would be getting, however they ran really well at altitude. It was much colder than we expected and none of the places we staying in on the way had any heating or hot water. We weren't prepared for altitude sickness and Craig was quite ill.
When we got to the base camp it was deserted. No one was there at all, the last temple we stayed in was closing for the winter the next day. So for us it was do it was quickly as possible then get out of there. It was pretty scary as the air got thinner and we had to haul the bikes over boulders on the trail. We definitely rode down a lot quicker that we rode up. We then rode to the Nepalese boarder, what was scarier than the ride up Everest was the ride in the back of the truck to the boarder along a very dodgy mountain road. Landslides had claimed some of the route and we had little room to pass. The truck driver was chanting something that apparently was requesting safe passage, we kept our fingers crossed.
What does your work as an instructor involve and what is the core message you try to instil on those who come to you for guidance?
We mainly teach people who've had road bikes but never ridden off-road before or those who want to improve their off-road skills for a trip or racing. It's a totally different technique to riding on road. The core message is relax and enjoy it. As soon as you tense up then your energy goes quickly and you feel every bump the bike goes over. You need to use your body as another part of the suspension and move around on the bike to keep it balanced. We love training people who are off on a bike adventure, we trained a girl who had never ridden off-road before and she gave up her job in the city and rode to South Africa on her own.
What's your involvement with TRAX Motor Project and could you tell us more about your passion to raise money for charity? 
I've been involved with TRAX Motor project for over 20 years. TRAX works with vulnerable, disadvantaged and marginalised young people in Oxfordshire. We teach them practical skills such as mechanics, catering and gardening and help with literacy and numeracy, life skills and give face-to-face support to many young people who have multiple barriers that need to be overcome. TRAX has been part of my life for a long time and I probably grew up there really. I started as a youth worker and went on to became charity director.
Due to moving away from Oxford I changed role and am now their fundraiser – I write bids to trusts and foundations rather than call people up. Sometimes I get a bit fed up being stuck behind a computer but every now and then I go and visit the project, talk to the staff and young people, see how it's developed with the help of funding. It's the young people and staff who are inspirational.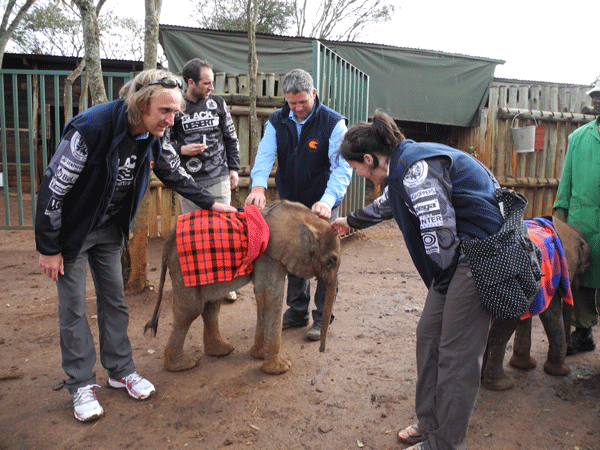 We've done a few other charity things. We raised money for the David Sheldrick Wildlife Trust in Kenya which looks after orphaned elephants. We arranged a two-week off-road ride through Kenya for ten people and raised over £10,000.   Sometimes if you feel passionate about something you just have to do something to help and if you can mix it with what you are good at then all the better. 
What exciting rides and races do you intend to compete in over the rest of year and beyond?
Craig and I have entered Marathon Des Sables in 2017 so we are currently trying to get as fit as we can. I used to run marathons in my early 20s but six marathons in 6 days ummmm.  We are up to about 15 miles at the moment and finding that tough. In preparation we are doing a few adventure races, such as the Fan Dance in the Brecon Beacons. Bike riding wise I did my first extreme enduro race in three years after having our baby Boy, it was brutal and over 60 per cent dropped out. After the second lap of four I came into the pits thinking of a good excuse to tell Craig so I didn't have to go back out, he just looked at me and said everyone else was struggling and to just get on with it.  I'm glad I finished and am looking forward to the Welsh two-day enduro in Mid Wales in June.
Find out more about Tamsin: at http://www.craghoppers.com/community/ambassador-tamsin-jones/