FROM A YOUNG age Scott wanted to be a soldier and when the time came to fulfil his dream he pushed through the barriers to become an officer for the revered Ghurkas.
More recently Forces Scott has set himself a very unique and dangerous challenge. He will attempt to break the record for the youngest person ever to reach the South Pole completely alone, unassisted and unsupported in an effort to raise £25,000 for the Gurkha Welfare Trust. 
Tell us about what inspired you to join the British Army and how being in the Army has helped shape the person you are today?
Like most young boys I spent my entire childhood running around the garden pretending I was a soldier which never really went away! I always wanted to represent my country in some way or another, and after a failed attempt at becoming a professional tennis player, the Army was a fantastic opportunity for me. 
How did you end up serving with the Gurkhas and what was it like working alongside those soldiers? What did they teach you about life?
Being able to serve in the Gurkhas is without a doubt one of my proudest achievements. They only take one or two Officers from each intake of over 200 people at Sandhurst so I was very fortunate.
I can genuinely say they are the finest soldiers I have ever seen. The effort they put in to every single task and the pride they have in their work makes them a formidable fighting force. Every single one of them inspires me on a daily basis to push harder and try to be better.
The biggest lesson I have learnt from someone serving within the Gurkhas was from the Legendary Col JP Cross, who when explaining what it was like to live on 2kg of food per week, while operating for ten years in enemy territory the Malayan Jungle in horrendous conditions, said with a completely straight face at the age of 93 "Oh well i mustn't grumble it could have been worse."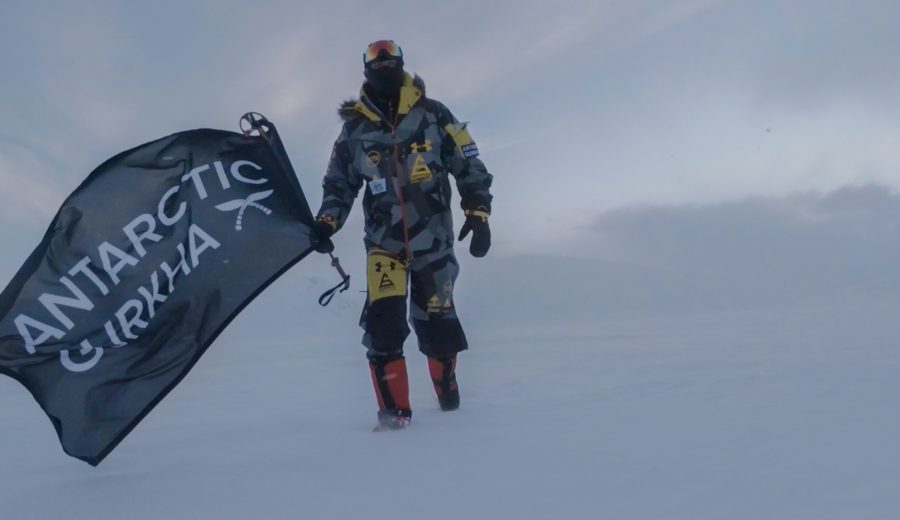 Tell us about the journey you're about to embark on and what made you come up with the idea?
I was very much inspired by the boys around me. I had always wanted to complete a major expedition of some kind. My history was in mountaineering but in this day and age a little bit of the mystique has been lost with the major tour companies dominating so many of the Himalayan peak. I had read about the challenges of polar travel for years and Sir Ranulph Fiennes has been a lifelong hero of mine.
I wanted to really test myself and find my limits without relying on anyone else. The South Pole Solo ticked every single one of those boxes. I was also constantly motivated by the criticism my generation received as being soft, lazy and having everything handed to us. I've seen people younger than myself do some incredible things within the Army and my civilian life and felt very passionate about showing what we are capable of. 
What are you most looking forward to about it and what do you feel will be some of the toughest challenges you will face?
By far the point i am most looking forward to is the moment the twin otter plane leaves and I am finally completely alone, staring at the expanse of Antarctica in front of me. The work that has gone into getting this expedition off the ground has been immense and it is a well known fact just getting to the start point of the expedition is the hardest part. As a solo traveller the risk of crevasses in Antarctica is by far my biggest challenge.  I have virtually no safety net in regards to falling through a crevasse so it really is my biggest danger. 
What is the charity you are raising for and how can our readers get behind you and donate to the cause?
I was in Nepal during the Earthquake in 2015 and went back in 2016 following for three months. I completed a duty trek for the Gurkha Welfare Trust and worked on their behalf visiting Gurkha Veterans and Earthquake reconstruction projects. It was an amazing experience and I got to meet Gurkha soldiers who had fought in Burma under Slim. Listening to them tell stories about raiding Japanese bunkers and lying in ambushes was surreal.
The main effort for the fundraising though is to go towards supporting the family of Rfn Suraj from 9 Platoon (The platoon I took command of). Suraj was killed by a suicide bomber on the Platoons last tour to Afghanistan, his parents were then at the epicentre of the earthquake in 2015 and we hope to support them in the years to come as Suraj would have. There is more information at www.justgiving.com/scottsears.
How will we be able to follow the journey and will you be blogging as you go?
I'm going to be able to send messages and pictures back via my satphone so you can follow multiple pictured of me in deteriorating levels of turmoil on either: Instagram @antarctic_gurkha, Twitter @antarcticgurkha  or Facebook: https://www.facebook.com/antarcticgurkha/.