SAMANTHA Larson is an avid climber, runner and travel junkie as well as a journalist who has written for publications such as National Geographic, Daily News, Grist and Stanford Magazine.
On the adventure side of things her biggest achievement to date is that she was once the youngest person to have climbed the Seven Summits (the highest mountain on each Continent), which she completed in 2007 at age 18 – you can find the proof in the 2009 and 2012 editions of the Guinness Book of Records!
In more recent times she has given talks about what it's like to be a teenage mountaineer to audiences such as Maria Shriver's Conference on Women, Science Online Teen and TEDx Midwest Youth.
In this interview she took the time to talk about how her passion for the outdoors, how her career into journalism began and her plans for the future.
You are a journalist who focuses on nature and outdoor pursuits. What are some of the publications you have written for and where has your career taken you so far?
I fell for journalism towards the end of college, during which I studied 'Earth systems', an interdisciplinary programme in environmental science. I liked a lot about the Earth systems program, but for me a big part of the draw were the opportunities, like summer jobs and research grants, to do fieldwork. As I got into research there was a lot that I loved about the process of science, but I also realised that if I wanted to continue in research I would need to increasingly specialise – and I still wanted to learn about it all! I felt like turning towards journalism would be a way to still get to do a lot of what I liked about research, but not have to commit to any one particular subject within it.
After I finished up school, my first job in media was as a research assistant to an established journalist who is a contributing writer to the New York Times Magazine, National Geographic, and GQ. One of the coolest
things I got to do while working for him was be a part of the team that put together the National Geographic story 'The Last Chase', about Tim Samaras, an influential storm-chaser who died in the 2013 El Reno tornado.
I went to Colorado and Oklahoma to contribute reporting for the story, where I did interviews with storm-chasers, meteorologists, and law enforcement. Working on that story also led to my writing freelance stories for 'National Geographic Daily News'.
More recently, I just finished an editorial fellowship at Grist, an online publication that specialises in environmental news with an irreverent twist.
You are an avid runner, climber and have also enjoyed a summer of scuba diving. How did you get involved in these activities and what have been some highlights?
I grew up going on family camping trips into California's mountains and desert, and playing in the ocean off its coast. I also grew up travelling – my step-mum owns a travel company, so our family vacations took us all over the world. When I was twelve my dad decided he wanted to climb Kilimanjaro; I asked if I could go with him. This kicked off our mountaineering habit, and over the course of the next six years we went on to climb the 'Seven Summits' together (the highest mountain on each continent), finishing with Mt. Everest in may 2007. At the time, I was the youngest person to have ever climbed them all.
When I got to college I became really excited about rock climbing (which also works better with a student schedule than high altitude mountaineering). I spent as much of my school breaks as possible touring some of the best climbing spots in the US.
One particularly fun summer, three of my friends and I loaded up into a Honda CRV and spent two months climbing in Colorado, Wyoming, Canmore, and Squamish. My favourite rock climb I've done thus far is the Regular Northwest Face of Half Dome in Yosemite, which I did in the spring of 2013.
A few years ago I also got really into running, after I read the book 'Born to Run'. I signed up for the Golden Gate Headlands trail marathon. It was a difficult course, but I had such a good time that I then decided to do the Big Sur marathon the next year. At Big Sur I qualified for the Boston marathon, which I ran in 2013. That was the year of the bombing, so it turned out to be a really emotionally difficult experience. Two weeks after Boston I ran the Big Sur marathon again; there were a lot of other Boston runners there, and it felt cathartic to share Big Sur's beautiful course with them, which starts through redwood forests and continues along the Pacific Ocean on highway one.
I learned how to scuba dive during my sophomore year of college in preparation for a study abroad programme with Sea Education Association, in which we sailed a tall ship from Tahiti to Hawaii. The first dive I did in Tahiti was one of those precious moments in which my whole world blew open again, where I was suddenly plunged into this whole other slice of life that I couldn't believe I had spent so much time missing out on, not knowing what was there. Then, my last quarter of school I did a class in kelp forest ecology at Hopkins Marine Station in Monterey, Calif., where we dove in Monterey Bay every day as part of the class. Quite a bit chillier than Tahiti (the water ranged from 48 to 54°F), but still an amazing way to explore and learn about a beautiful part of the world!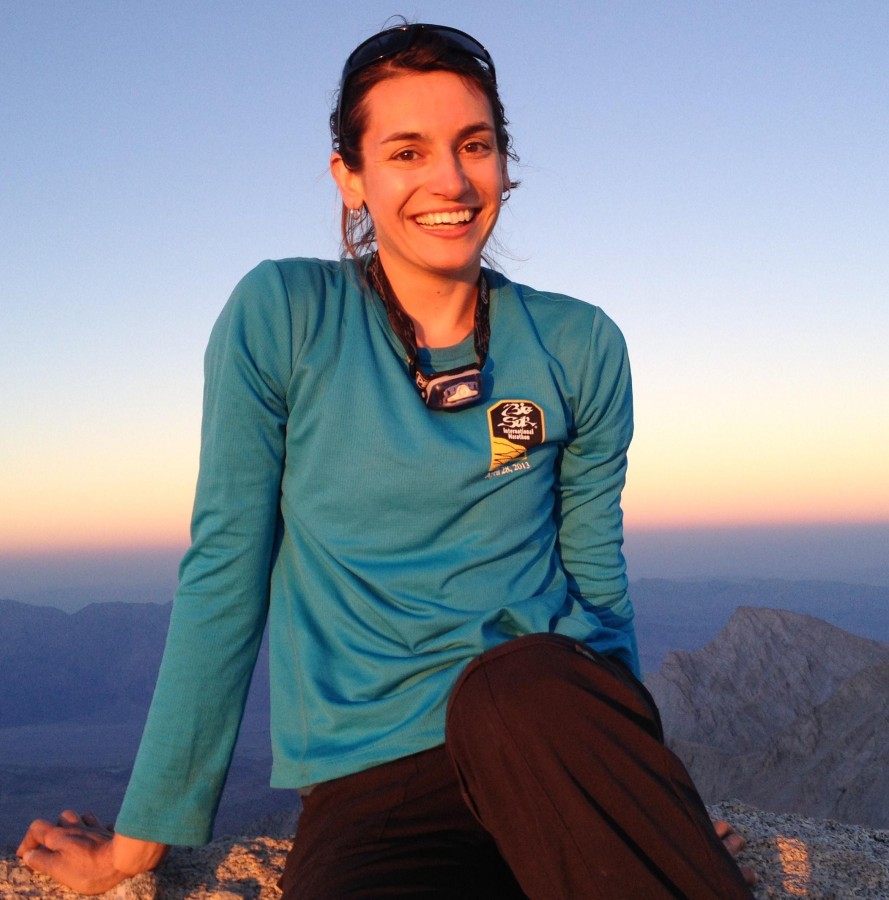 On some of your climbs you must have found yourself in some pretty daunting situations. What do you do to keep yourself calm and focused?
This is something that I continually have to work on – but I think the mental game of climbing is actually one of the things that makes it so interesting to me, and keeps me coming back to it. I think one of the biggest challenges in climbing is developing that sense of intuition that distinguishes between "this feels kind of freaky but I actually have control over the situation and am overall safe" and "I could be in serious trouble if I don't figure out how to get myself out of this soon." But, either way, it's true that learning how to stave off panic is a crucial skill in climbing. I keep calm by pausing for a moment in order to take some deep breaths, remind myself that I'm under control (or to devise a strategy to get back under control), and then, once I feel my heart rate go back down, I purposefully push on. Once I'm in motion again I just keep moving, trying not to waste time or create space for doubting thoughts to creep in.
How are currently spending your time and do you have any projects on the go?
I'm currently working on some freelance writing projects, thinking about future story ideas, future trips I'd like to go on, and enjoying the last of the fall rock climbing weather.
Have you considered writing a book about your experiences and if you have what format would it take?
Yes! Writing a book about climbing the Seven Summits is a project I've had on the back-burner for a while. I'm particularly drawn to the idea of writing it for a younger audience. The fact that I climbed one of the summits a year from when I was twelve to eighteen means that it could encompass a broader story of the lessons of growing up.
What are your long-term goals for the future?
Big question! I have a pretty good general idea of the types of things I would like to do – writing and journalism, adventuring, travels – but I'm still figuring out how to refine those things into longer-term goals.
Sometimes I feel anxious at the thought of having to "figure it all out," but for the most part I try to maintain an attitude that it's okay not to know everything. Sometimes it's ultimately even more satisfying that way – after all, what's adventure if not plunging in to the unknown?
What advice would you give to a young person wanting to start writing about the outdoors and extreme sports?
It can be intimidating to break into any writing career, but there are lots of people out there who continue to make it work. I've spent a lot of time looking up writers whom I admire and trying to figure out how they got to where they are; the biggest takeaway I've gotten from doing this is that there is no one path to establishing oneself in the field. But if you have good ideas and are willing to work hard, there are a lot of opportunities out there for forming your own path. I also think one of the biggest things that can give you an edge in writing about the outdoors and extreme sports is having a basis to be able to relate to the events and people within them. So go out and have some experiences! The more you see and learn, the broader base of things you'll be able to write about.