ROB LYON is most alive when he is exploring in his kayak and finding peace and tranquillity on the coast of Vancouver Island. Passionate about supporting others to engage with nature in this way Rob set up Lyon Expeditions which specialises in helping others find the ultimate ocean kayaking adventure.
In this inspiring interview Rob opens up to us about where his passion stems from and what continues to drive him to live the life he does. Read on to find out more about his 'ocean odysseys' and his plans and projects for the future.
To find out more about Rob and how he can help you find the ultimate paddling experience visit www.lyonexpeditions.com.
Where did you grow up and when did your passion for kayaking and the ocean begin?
I spent my early childhood on the east coast of the US and in Germany, then settled in California from the fifth grade on.
My passion for the ocean began when I crossed the North Atlantic on a small troop ship that my father commanded in winter in a violent storm. Standing on the heaving deck and looking out at the roiling mountains of water, I felt not so much fear, as awe. For the first time in my short life I had witnessed the immense, unshackled power of a vast and primal force, the sea. It dawned on me at that moment that this was a force beyond my parents' sphere of protection, that it was God's raw domain. The impression was indelible and is with me still to this day.
While this experience occurred 'at sea', the inspiration I get from the sea coast is all about edge where sea meets shore. The sea is something I don't want to commit to fully, but rather skirt the edge of. Not just a fear of being in blue water far from shore, it is the blending and alternating of sea and shore for me that appeals.
Ocean kayaking for me is like a dancing with a drunken giant, if you can imagine that, and when my partner begins to act boorish, I keep him safely at arm's length. It is about green water, white foam on black rocks and white sand beaches and whether I am riding swell or hiking barefoot on untracked sand, the feeling, at the most ethereal of times, is as if I had just jumped the fence into God's backyard.
As for my experience kayaking I had zero. I had worked as a whitewater fly fishing river guide in the remote high desert canyons of the north west of our country. Handling small boats in turbulent water was a vibrant, exciting experience and fired my desire for adventure and put me fully into the present moment. And after five years of this, I realised that I needed more of what that was about. Bigger water, bigger adventure, and more wilderness, in three words, and I followed the river to sea and hung a right.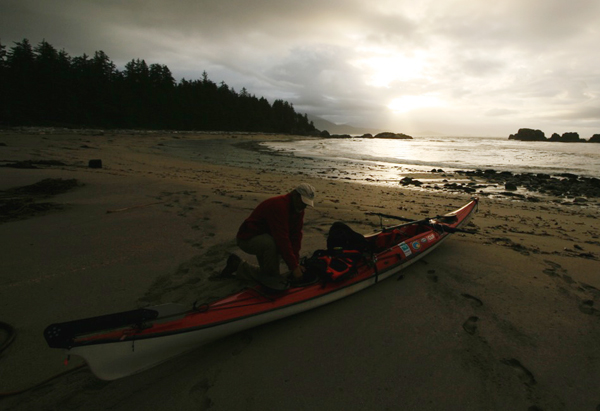 I moved north to the San Juan Islands and met my future wife. While the islands are considered a kayaking Mecca, they held little interest for me. Here you paddled with motor boats of all stripes within constant view of obscenely priced vacation homes. My only interest in paddling was touring remote, unpopulated waters.
It was then that I met Pamela and she took me along with her and a bunch of her friends on their annual pilgrimage to the remote coast of the north western end of Vancover Island, BC. It was a heady intro into wilderness seashore living, travelling across open ocean, surfing ashore, and going native on a beach at the far edge of civilization. But again, just as the island paddling was not my thing, I was to discover that hanging on one beach for three weeks wasn't either. But I could see what was, it was all around me. When I imagined paddling for months alone along the coast and living off what I could manage to carry or catch, I felt giddy. I knew then and there that that was what I wanted to do and by the next summer my first solo kayak expedition launched off a tiny beach on my home island, my friends and family all waving goodbye.
Everyone had tried to talk me into bringing someone along with me. That seemed a ridiculous idea. I could take care of myself, first off, and second, it felt like this was somehow the most intimate thing I had ever done in my life and quite obviously needed to be done alone.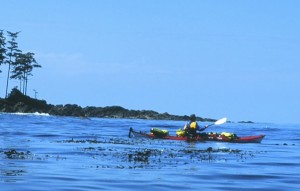 Could you tell us about some of your early expeditions and specifically the one which inspired you to set up Lyon Expeditions?
During the time of that first expedition, I had a job I could farm out to a friend while I was gone and figured I'd take however much time it took to circle the entire island. It seemed the perfect venue, given that I knew squat about kayaking. I would paddle up the protected inside waters and I figured I would have a pretty good idea what I was doing by the time I reached the tip and started down the open, more challenging, outside.
All I needed was a kayak. But not just any kayak. I wanted something that would self-rescue more reliably than a conventional kayak when it filled with water. In fact, I wanted something that did not fill with water. Period. It was my history with surfing and surfboards in SoCal as a teenager that provided the answer. The sit on top kayak. Same surfing concept. Which is basically using something intrinsically buoyant that you could get around on. In my case it needed to haul some serious swag, so make it hollow with a seat and hatches. Throw in a rudder. Call it a sit-on-top kayak.
The Tsunami Rangers were an edgey, avante garde bunch of kayakers based down on the northern California coast, and anything but entry level paddlers. They used tough sit on top style boats to mess around in the surf zone. They made them themselves. I got a hold Jim Kakuk, one of the head Rangers there, and told him what I had in mind. He had a big 20 foot boat that had seen a few waves and sold it to my for a couple of hundred bucks. It had two big hatches, a handy side rail and was painted up like a bat from hell. I was good to go.
This first mega, open ended journey galvanised whatever I felt about the wild sea coast. Not only did it work for me in spades as a pilgrimage to a powerful and metaphorically potent ecology, but the effort to get 'there and back again', as our friend the Hobbit once put it, is a wonderful way to find one's self.
At 45 years of age it still felt like a coming of age to me. Something clicked inside during the heart of that arduous journey that I can damn sure bet would not have clicked had I remained at home, and the chance to help facilitate this opportunity for others was the inception of Lyon Expeditions.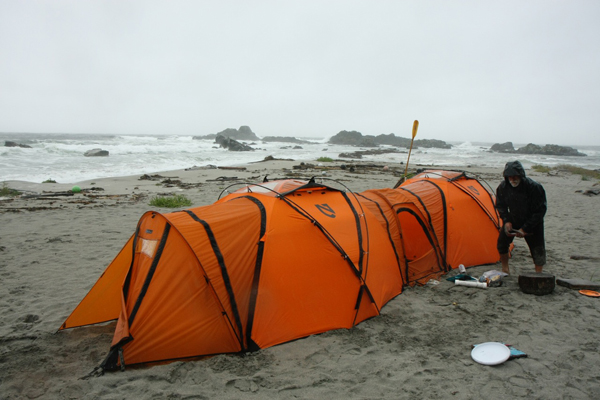 What are the aims of Lyon Expeditions and what can those wishing to learn from your expertise expect?
The idea with Lyon Expeditions is to support and coach an individual who is looking to experience a legitimate solo ocean kayak quest. Such people are far and few between. Ed Gilette once told me that solo ocean kayakers were born not made and I think he hit the nail squarely on the head. I've had plenty of informal discussions with interested people but only a few clients, per se. That is as it is and as it should be. The truest inspiration for a solo journey like this is from the ground up, and anyone excited to undertake such a challenge will typically do it all themselves. The company remains solvent and available as a vector to reach me and I am happy to do what I can to help, even if we do no more than talk.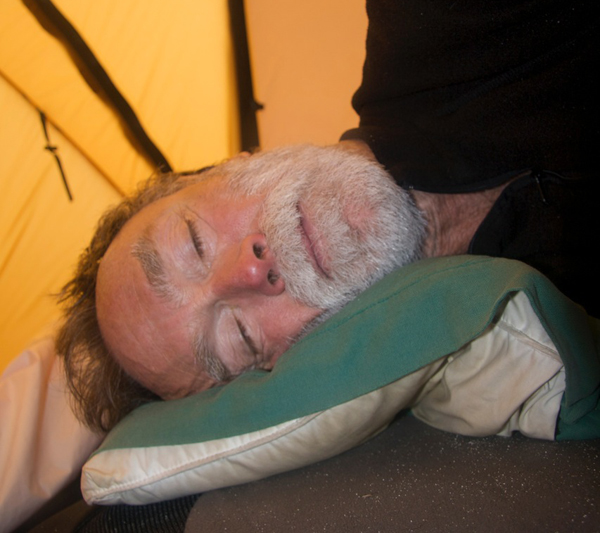 How is it working with your wife Pamela and what different qualities do each of you bring to the organisation?
Pamela remains and has always been a giant support person for any project I have undertaken, river canyons or mountain journeys as well as coastal adventuring. Moreover, fortunate is a client of mine who comes here and meets this extraordinary woman – for whom engaging with another human being is at once a deep ethical commitment to be pro-actively present and art form. And that's not partner-speak, it's a fact.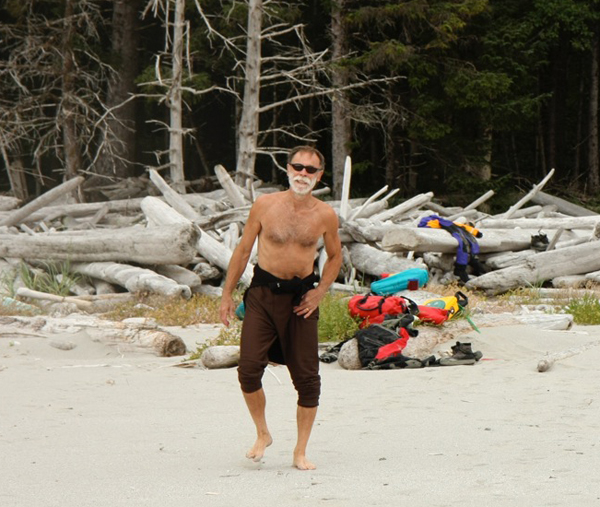 You work with a lot of young people – what is the core message you try to instil in them?
If I had to tell them one thing it would be to take the time to go off into the natural world on a long, sustained quest. And to do it as an expedition, not a three-month base camp. Stay on the move, meet the challenges that come along and develop the self affirmation, mental acuity and resilience needed to live alone in the wild day-to-day. To 'Go on baidarika' is a phrase I gathered in the '60s in Berkely, California, describing a native coming of age quest wherein a young, post puberty, native boy or girl, built his own bairdarka (sea kayak) out of driftwood and bone under the tutelage of a tribal elder, then come spring, left the village somewhere on the Sunshine Coast of British Columbia and paddled around Vancouveer Island, returning eventually as young man or woman forged in the fire of challenge and adventure.
A curious footnote to that story is that I interviewed George Dyson once. George literally worte the book on Baidarka. I asked him if he had heard the word referenced to imply a vision quest of some kind, to 'go on baidarka'. He replied that he had not. Frankly, it matters not if it happened or no. It is a wonderful, catalysing idea and would be my message to the young (and not so young). Find your bairdarka and get after it.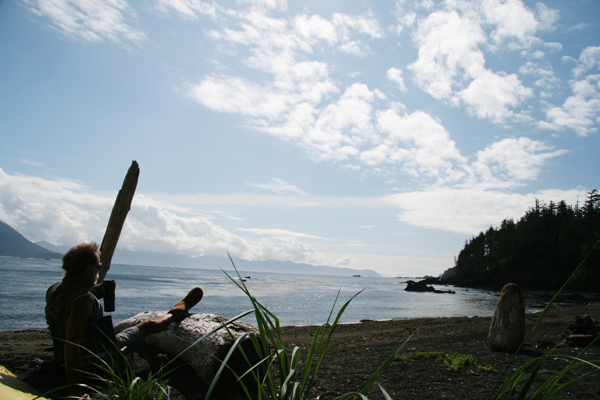 Could you tell us about the solo kayak odyssey and what it involved?
There were three of them. The first was Vacouver Island where I left from a tiny beach on my island in the San Juan Archipelago, returning over three months later. The second was circling a smaller island in Sotheast Alaska for a month and a half. As much as I still needed time alone on these solo odysseys, I was looking for what I considered my kayaking utopia. In other words: wildly beautiful, fishy, a dependable high pressure system throughout late summer early fall months, no grizzly bear or mosquitos, or people, for that matter, and plenty of white sand beaches to surf ashore on.
The report card read: Vancouver Island good in all regards. Being a SoCal transplant, the motto was always further north is best. But when I paddled Alaska I realised there is a ceiling to the adage. In the south east I found mosquitoes, grizzly bears, lots of people, lots of rain, and so on.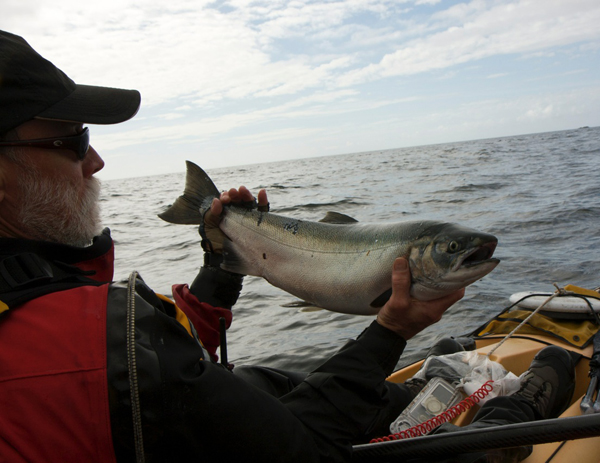 The third and final solo trip was up north to Haida Gwaii. I didn't expect much improvement in the stable weather pattern that breaks down the further north you go, but I figured I would have wild pegged out, at the very least. After paddling down the entire western shore of both Morseby and Graham Island for a month and a half, I took a water taxi back to Queen Charlotte City and caught the big Alaskan ferry home. It had been a trip worth taking, to be sure, but it had nothing on Vancouver Island.
After these three seminal journeys I was done. From that point on I wanted to steward and share the experience with other people, be it helping someone else design and execute their own solo expedition, or paddling south with my mates from Cape Scott along the tastiest bits of wild sea coast imaginable. Interestingly, on each of of these trips we would inevitably surf ashore to find our more sessile kayaking friends on that same beach, carving totem poles and smoking salmon in driftwood kilns, and living the libertine life of the naked nouveau native.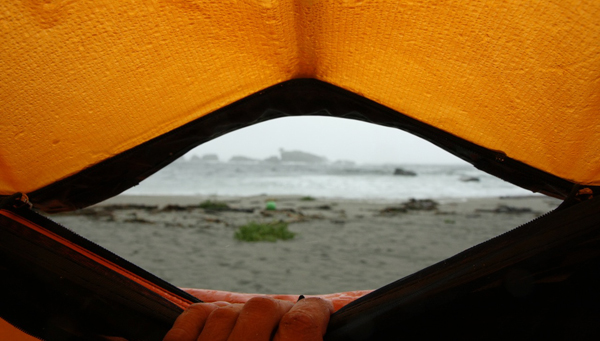 What expeditions are you currently planning and do you have any other exciting projects lined up for the future?
The solo kayak expedition, or any expeditions for that matter, does not have an indefinite shelf life. At some point we will become either too febrile or perhaps have lost the driving passion to make it happen. And make no mistake, it is so not something we go and do without a fire burning in the gut. It is is anything but easy.
Perhaps the greatest gift it provides, even more than the self growth it affords or the spiritual incandescence it often sparks, is the most obvious of things . . . the chance to live by a set of simpler imperatives.
In the spirit of 'chop wood, carry water' – the old Zen maxim depicting a simpler style of living both before and after enlightenment – lie the nuts and bolts of the solo kayak expedition.
So, what other exciting projects do I have lined up for the future?
Several come to mind. A remote, exquisite high desert river canyon in the fall, that we have all to ourselves, and a paddle out to the tip of the Brook's Peninsula up on the BC coast. The expedition penciled on my calendar at the present time, though, scrawled and double scribed in bright red ink in capital letters, is, FINISH THE NOVEL.