WHEN CHRIS HADFIELD became the first Canadian to walk in space he fulfilled a childhood dream. Raised on an Ontario farm he had aspired to reach the realms of space as a child and worked tirelessly to achieve the almost impossible ambition.

Chris believes in working hard to make your dreams comes true and in this exclusive interview talks about how he works to instil that ethic onto others. His books aim to educate and inspire all who read them and since retiring he continues to keep busy with a broad range of commitments that include music, charity and teaching.
How was life growing up on an Ontario corn farm and where did the aspiration to visit space first come from?
My parents deliberately chose to raise us on a farm and teach us about hard work. We lived in a city when we were small so the decision to change was a conscious one and a good one. We had a great childhood. 
My father was an airline pilot, so I was very aware of the horizons that lay beyond the farm. I saw people flying in space when I was small and this contributed to me aspiring to be an astronaut. My decision to be an astronaut came from a background of hard work and recognition of what you can create yourself and come to be.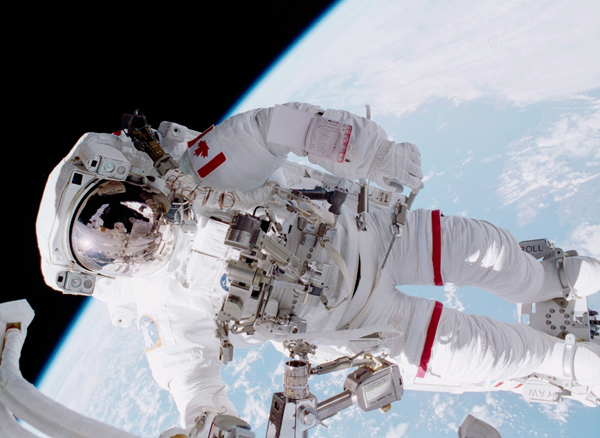 Could you tell us about your flying experience leading up to when you became an astronaut?
I first started flying as a child and worked on a pilot's license at 14, earned a glider pilot's scholarship at 15 and by 16 gained my pilot's license. I was trained as a tactical fighting pilot which would see me flying CF-18 Hornets intercepting Soviet bombers for NORAD. I was the first pilot to intercept a Soviet bomber. I have flown all types of planes from smaller planes to huge transporter planes. 
I had 26 years preparation and only the final three years was as an astronaut in Houston for the space shuttle. I learned Russian and about the Mir Space Space station.
Could you tell us about your time serving as Chief of Robotics, CapCom and Nasa's operation in Russia and then of course eventually going on to pilot a Russian Soyuz?
I served as an astronaut for 21 years – 20 and a half years of that time was on earth. My first space flight was to the Mir Space Station onboard the Space Shuttle Atlantis in 1995. Once you have flown in space you have the operational experience to help run NASA and I worked at mission control for 25 shuttle missions in a row.
I flew a second time on Space Shuttle Endeavour and was then appointed NASA's Director of Operations in Russia. I lived in Star City and was Director of Operations at the Yuri Gagarin Cosmonauts Training Center as NASA's main liaison for two years.
I arrived back in Houston as Chief of Robotics for NASA in 2003,  just after the Space Shuttle Columbia accident. To help prevent a similar disaster we worked on three basic ideas  – don't damage, detect damage and fix damage. It was a fascinating time to be in robotics and I had a great sense of satisfaction fixing the problems that came my way.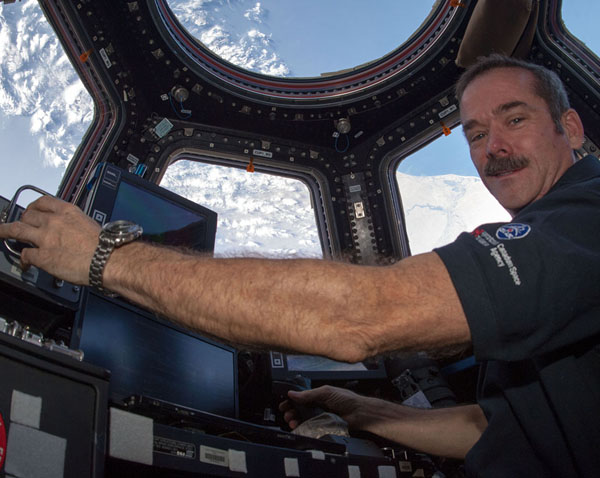 What does it mean to you to know that you were the first Canadian to walk in space?
I think it's overshadowed by the experience itself, an overpowering, personal and visceral experience that I trained years for. We trained on full scale mock-ups of everything we would be working on in space and ried not to miss a thing in preparation in order to get the complex things done right first time. 
Just by chance I was the first Canadian. No one can say Canadians can't do space walks! I am content that I opened doors and broadened horizons for Canadians.
You gained much popularity around the world when in March 2013 you were the commander of the ISS as part of Expedition 34 and chronicled your life aboard the space station through social media. How did it feel to be able to inspire so many people from so far away?
It was a really nice part of the space flight which gets lost in history and perspective. I was on postage stamps, a school was named after me and an airport too. The advent of social media allowed us to share the space flight experience more readily and with more depth. I always wanted to share the experience and inspire people. To be able to have the means through the internet felt great and helped increase people's awareness of the possibilities that exist. 
Could you tell us more about your books, An Astronaut's Guide to Life on Earth and You Are Here: Around the World in 92 minutes. What can readers expect and did writing about your experiences come naturally to you?
About five years before I retired I was giving talks to people around the world and it occurred to me to write my experiences down. That was the entire purpose of the first book. It was a New York Times best seller. People tell me they have found the first book both useful and interesting.
I had a lot of pictures just languishing so I chose the best 150 pictures to put in my second book. I hoped seeing the world from my perspective would have an impact and help our species make better decisions. This too became a best seller. All profits go to Michael J Fox foundation and the Red Cross.
I have always enjoyed writing and story telling. I wrote a full intro to the Martian Chronicles and I am pleased with the two books I have written – the first one is published in 20 languages! 
Now retired how do you mostly spend your time and do you have any exciting projects planned for the future?
This is the fifth time I have retired. To me retirement doesn't mean you stop doing things, you just do something else. I give a lot of lectures – there is a surprising and unrelenting demand for me to come and speak. There are documentaries I'm involved in. I wrote and recorded a whole host of music on the space station and there will be an album out in the summer with the proceeds going to charity. 
I also work with elementary schools, I work on 'Launch*Pad', an agency set up by my son which is helping Canadian businesses compete internationally and I fly vintage airplanes.
Could you tell us about that famous time you played Space Odyssey on the guitar in space?
I've been a musician all my life and played all over the US and Canada. The guitar is always on the space station for therapeutic reasons so thought I'd better play it. Space Oddity came about through a clamour on social media. I never played one Bowie song before but my son talked me into it and it sounded much better than I anticipated. I made a video singing the song and then my son put it together with the instrumentals added underneath and Bowie loves it! 
Once we have lived in a place for a while our hearts start to change and moves with us, helping us to understand ourselves. People understand the space station much better now.